Since launching MarkUp's beta in October 2019, our goal has been to have every piece of digital content flow through MarkUp for review, feedback, and collaboration.
While the core MarkUp product focus will always be collaborating on live and staging websites, we also know how important it is to encapsulate more of the creative process and supporting images is essential to achieve that goal.
With that being said, we're happy to announce that as of today, MarkUp allows you to create projects with images, whether you're working on wireframes, mockups, logos, designs, or anything else.
What to expect?
We've consistently believed in providing a product that is dead simple, clean, and frictionless. We're bringing that same mindset to annotating static images.
Simply upload any JPEG or PNG file to create a project
Upload unlimited images to any project
Scale images based on preference.
Seamlessly toggle between images within the same project
Invite unlimited colleagues and stakeholders to comment
Pricing?
While we do often get intercom messages like this: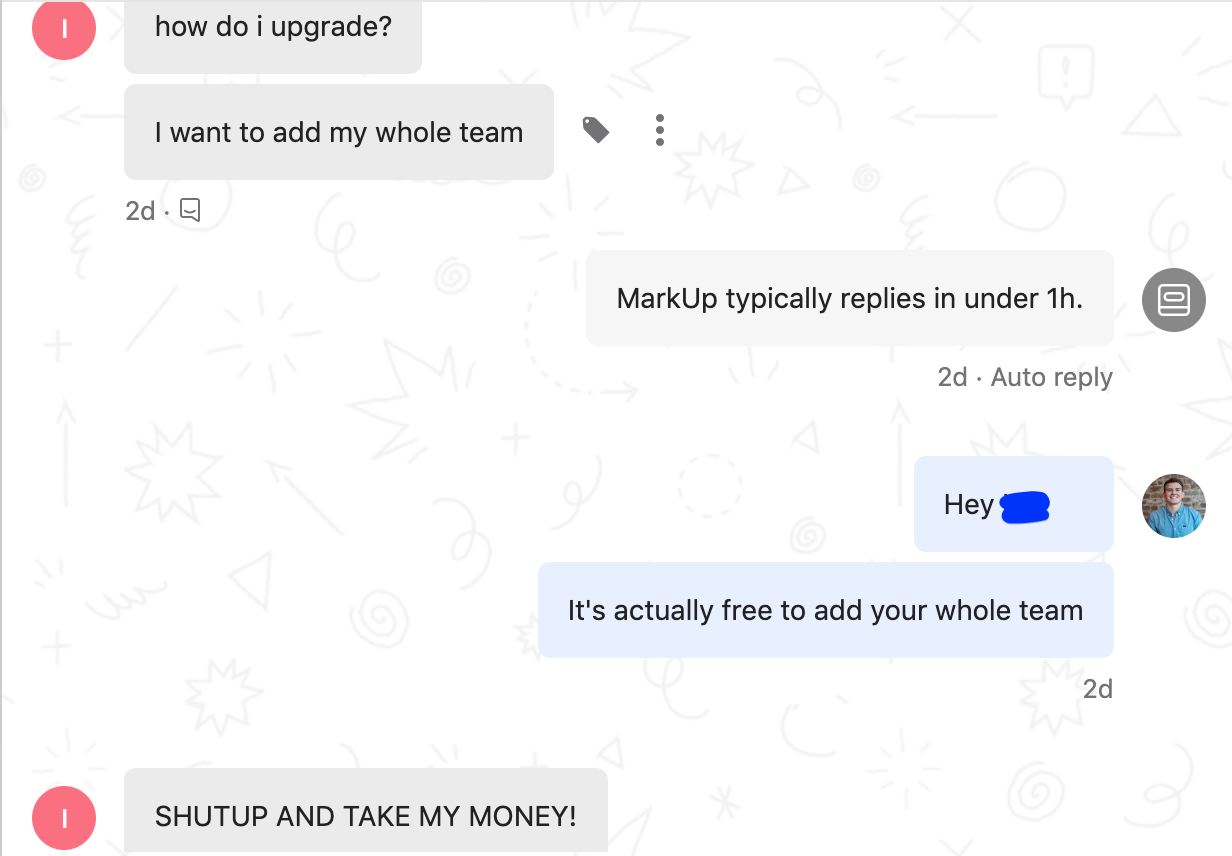 We are allowing you to upload unlimited images, invite unlimited collaborators, and create unlimited projects for free!
Why are We Releasing Images Now?
In a perfect world, we would have launched MarkUp with images in our beta back in October of 2019.
However, as many of you know, when launching a product to the world, there is both an art and a science to deciding what features to include in your MVP and what features can and will wait. We made the difficult decision to release MarkUp without images so that we could get our product out and gain critical customer feedback from our users as early as possible.
Waiting to launch MarkUp with images would have meant wasting several months of customer validation, testing, and feedback from over 10,000 users on MarkUp today.
Over the past seven months, the ability for users to MarkUp static images has been one of the most heavily requested features.
Taking the same philosophy that we took in October, we're not releasing a 'perfect' version of images today, and we view it as an MVP. There are a few limitations to what we are releasing and we will be working to add the additional functionality in the coming weeks. Please note that the following are not yet possible.
The ability to add new or replace existing images within a project
The ability to make an image full screen
What's next?
In the next 1-2 weeks we plan to release the heavily requested and long overdue project specific email notifications, the above additions to images, and some general product improvements and polish! Check out our public roadmap and stay up to date by joining our MarkUp Community Slack Workspace.
Now please go create a project with images and let us know what you think!