The following is a conversation with Nina Barone, Creative Services Manager at Getty Images, on how her team went from lengthy email chains and conference calls to centralizing all of their feedback inside of MarkUp. Once adopting the tool, she knew MarkUp would help with feedback but what Nina also discovered was that MarkUp led her team to become more engaged in the content feedback process.
Nina is based in LA and works with colleagues in both NYC and London. With different time zones and no more office time due to COVID-19, they needed a way to centralize their feedback process. We dive into that and more in the conversation that follows.
Getty Images is the most trusted and esteemed source of visual content in the world, with over 200 million assets available through its industry-leading sites www.gettyimages.com and www.istock.com.
Nina Barone, Creative Services Manager @ Getty Images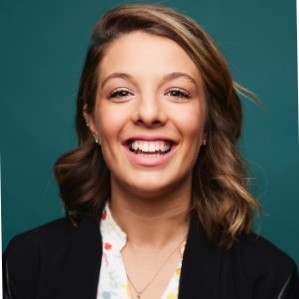 How are you creating content today at Getty and where did MarkUp come into play for that content?
Nina: Ceros is definitely the program I use most for marketing collateral creation and we have been pushing a ton of new Ceros content through MarkUp for review. This shift took place really in the last 3 months and prior to that we communicated all content changes over a string of emails.
MarkUp has been incredibly helpful for us. I sort of stopped taking notes from people via email or Slack at all and just told them "put it in MarkUp or don't come to me" [she laughs] because feedback is just so organized and streamlined for us in there.
What was your collaboration process like before MarkUp?
Nina: I use Ceros primarily – it's become my specialty for marketing materials. We'd send out a Ceros link and you'd have 10-15 people on these email chains. It would become a matter of sifting through every single person's notes. Right now, working from home, I don't have a printer, but before at the office, I would print out everyone's notes, highlight sections, scrap together changes on paper and go through notes that way – not great.
How did MarkUp alleviate that process?
Nina: MarkUp has definitely streamlined all of our workflows in creating digital marketing materials. It's also created a one-stop shop for everyone across our various teams to put in their changes for content. We can resolve everything directly inside the platform and it's truly solved for countless inbox headaches. 
I've had so much more engagement when asking people at Getty for feedback than I've ever had before because this is such an easy platform to do it. Whereas before, if I asked people for feedback on our content, I'd get: "Well do you want to jump on a call? It might be easier to talk through the notes trying to explain section 5 on page 9." I just think the engagement across all of our teams and the willingness to provide feedback has increased just because MarkUp is such an easy place to centralize everything.
What would you say to someone who is skeptical about using another product?
Nina: First of all, the core product is free, so there shouldn't be anything stopping you from trying it out. Secondly, it's just a massive time saver and there isn't another tool that I've found that does the same thing for links and websites. The amount of time it takes to create an account is 30 seconds and you're going to get that back very quickly and then some.
Why would you say MarkUp is more of a platform than a one-time feedback tool?
Nina: I think the ability to track all of our notes and to track things that are working, moving documents has just worked so well. We're always creating things in Ceros on a rolling basis and MarkUp can reflect all of our changes over time. To go back and see resolved notes, past changes, keeping everything in one spot makes MarkUp a living, breathing hub for content feedback.
What features would you recommend for MarkUp?
Nina: Ability to upload PDFs because that would open the door for even more use cases for the Getty team, and I would say better ways to organize projects on our dashboard would be even more beneficial as well.
P.S. – Both are coming soon!
---
This is the third story in MarkUp's Case Study Series. For more information on Getty Images, visit www.gettyimages.com to learn more about how the company is advancing the unique role of still and moving imagery in communication and business, and enabling creative ideas to come to life.