Remember when we told you we had big plans for MarkUp.io this year?
Well, we weren't kidding.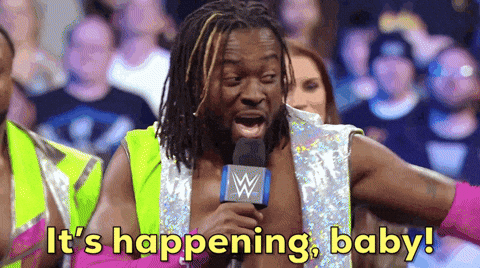 It's time for us to roll out the next set of features that will help make MarkUp.io the best place to collaborate on digital content.
But first, a quick recap:
On July 26, we're officially moving into the next phase of MarkUp.io by offering two paid plans on top of our Free plan.
The Free plan will undergo some modifications but continue to provide an ample allowance and the core features MarkUp.io users expect and love (as well as some immediate improvements).
The Pro plan is designed to support marketers, creative professionals, and small to mid-sized teams in need of enhanced privacy, improved file management, and plenty of storage.
The Enterprise plan is great for marketing agencies and larger businesses that want one simple, unified place to give and receive contextual feedback on the organizational level.
This introduction of paid plans ensures that MarkUp.io will be around for years to come and will allow us to continue improving our tool for all our users: free or premium.
But you're not here to get into the nitty-gritty details of the paid plans, are you? (You can do that by reading our blog on the subject). Let's jump right into the features themselves.
The ability to send bulk invites
Two updates many of you have been campaigning for are finally here.
Now, when you need to share a MarkUp with a group of reviewers, you can just send out one invite to everyone at once.
That's right! No more tediously copying and pasting each team member's email into separate fields. The platform's improved share modal instead has one email field where you can paste multiple emails or an entire email list.
Another much-needed improvement? After July 26, all MarkUp.io users will be able to see who has access to a MarkUp and which invites are still pending.
This transparency is a godsend when deadlines are approaching and you're trying to figure out whose review you might be missing. (That's right, Sharon, we can see you still haven't accepted that invite we shared last week 👀).
User settings and roles
You probably already know that all three MarkUp.io pricing plans support an unlimited number of users. We'll admit that the user roles were quite limited up until now.
To better solidify and clarify user roles, there are now three designations that exist within the MarkUp.io universe:
Admins can control user permissions within a Workspace, including removing user access. They can also edit the Workspace, Folders, and MarkUps but cannot delete a Workspace if they are not the primary owner.
Members have access to all MarkUps and Folders within a Workspace. They can add and remove Folders and MarkUps and invite or remove users.
Guests can only access specific MarkUps or Folders they've been invited to review. They can comment, add attachments, and invite other guests, but cannot make any edits to Folders or MarkUps besides that.
Think of it this way: imagine you own a small design agency.
You maintain your Workspace as an admin. You invite your graphic designer and copywriter to your Workspace as Members so they can leave comments on any given MarkUp within that Workspace and even create additional MarkUps if needed.
When you need feedback from clients, you invite them to a specific MarkUp or Folder as Guests using their email or by sharing the link. This way, you know they will only review the items relevant to them.
When accessing a MarkUp using the share link, Guests don't have to register their emails to leave comments. This is great if you're only planning to collect feedback. However, we strongly suggest that Guests register their emails for an optimal experience and workflow. This way, they will receive email notifications of any new comments or threads, lowering the risk of missing any essential questions or updates.
Now that user roles are all cleared up, you can spend less time trying to figure out account permissions and more time ✨ collaborating ✨.
And if you have a Pro Workspace, you can also take advantage of the newly-added ability to manage share links (how does that work? Glad you asked… 🙃).
Manage share links for better access control 🕵️
Pro and Enterprise users, rejoice! You can now block unauthorized guest access to a MarkUp with a simple toggle, even after it's already been shared.
Just disable the share link button. It's that simple!
Having the ability to manage share links is useful for scenarios that involve reviewing sensitive documents and other projects.
If you work in finance or any other highly-regulated industry that requires adherence to compliance, having more control over permissions via share links is a convenient way to manage access. You can now regulate who can view a confidential MarkUp by checking who has access to it after sharing the link. If you see anyone you don't recognize or who doesn't have the right authorization, simply remove their access via the share modal. This is a big deal if you're dealing with highly sensitive information and access is getting out of hand.
And if you want to take these security enhancements one step further, consider signing up for the Enterprise plan to get access to our SOC II compliance documentation. Contact our team for more information.
Introducing Folders, a more efficient way to organize MarkUps 📁
We know, we know – it's been a long time coming.
At long last, Folders have been introduced to Pro Workspaces to reduce the need to establish and maintain an overwhelming number of Workspaces. At the same time, Folders add an additional layer of privacy and security to the feedback process by allowing you to view who has access to a Folder at any given time.
Pro and Enterprise users can create as many Folders as they want, and organize Folders by creating additional sub-folders, up to five Folders deep.
If you need inspiration on how to best organize your folders, here are the most common use cases we see:
Folders by teams. The truth is that the review and collaboration workflows might look quite different for each team. Some have multiple ideation stages, some have longer research processes, and some have several iterations of the same solution in different formats. Creating separate Folders for each team will enable them to create a workflow that best suits their needs.
Folders by team member. If you work on a small or medium-sized team, each team member can maintain their own Folder within a shared Workspace. Team members can set up new Folders within their dedicated Folder for each part of the work they own, allowing only specific stakeholders access to the necessary Folder when feedback is needed.
Folders by client. Folders are also a great way to manage individual customers you're working for. Further, if you're working on multiple projects simultaneously for a client, you can now have a dedicated Folder for said client in your Workspace, with additional Folders within that client's Folder for each deliverable, stage, or team.
Folders by project stage. This one is super useful for anyone working on large projects involving several stakeholders and multiple milestones. You can create separate Folders for each stage, breaking down the milestones and versions into subfolders. This is a great way to declutter and ensure you get targeted, relevant feedback with minimal distractions.
Once it's time for review, you can share MarkUps at the overarching Folder level, at the sub-Folder level, or just at the MarkUp level.
Choose the right Workspace for your needs
Right now, you might be using multiple Workspaces to manage your portfolio of clients or your team's workload.
And that's definitely one way to stay organized. However, juggling numerous Workspaces can get confusing as your list of collaborators increases.
The goal of our new pricing tiers is to simplify how you manage your workload by giving you one centralized location where you can store everything you need feedback on.
That being said, we now have two categories of Workspaces: Free and Pro.
If you currently manage multiple Workspaces, you'll still be able to access them and everything within them after July 26. However, once the paid plans kick in, users will have to pay to use new features like Folders in their existing Workspaces (at the cost of an additional Pro subscription per Workspace).
Further, all existing Workspaces will have new limits imposed on them in terms of storage and the number of MarkUps they can support. For instance, if you have 10 Workspaces when we turn pricing on, each of those Workspaces will now be limited to 20 MarkUps and 10GB of storage.
To ensure the continuity of your MarkUp.io user experience and better management of your existing and future MarkUps, we recommend merging your MarkUps into one Workspace. This way, you'll have a single location to actively manage, govern, and audit content, check your plan's billing cycles, define user permissions, and so on.
How to Merge Your MarkUps
Moving one MarkUp to another Workspace is as simple as … well, as everything else on the MarkUp.io app.
To merge MarkUps from different Workspaces, first decide which Workspace you'd like to keep. Move MarkUps from one Workspace to your main one by clicking the three dots in the top right corner of a project tile, then selecting "Move to."
All existing Workspaces will appear as an option.
Once a project has been moved from one Workspace to another, MarkUp.io will automatically transfer all the data and users associated with that project to the chosen Workspace.
Managing Multiple Workspaces
Users managing multiple Workspaces can view and access all of their Workspaces from the left sidebar of the MarkUp.io app via a dropdown menu. This is also where Enterprise users can create new Workspaces.
To invite people to your Workspace, click the Team icon on the left sidebar of the MarkUp.io app.
Here, you also can review and manage the roles and permissions of your teammates. If you'd like to limit the account permissions of specific users, you can provide them with Guest access by simply inviting them to the MarkUps you'd like them to review.
Ready to start your 30-day free trial?
If you've read this far, then you're probably ready to upgrade to either the Pro or Enterprise plans so you can start using Folders and other new features. If you're still on the fence and unsure of whether these features will actually bring you value, don't worry—you can start a free trial to try them out!
If you currently manage multiple Workspaces, start by navigating to the Workspace you wish to upgrade to Pro.
Head to Settings on the left sidebar of the MarkUp.io app.
Click on the Billings tab.
Finally, click "Start my free trial."
That's a wrap!
We know that MarkUp.io has changed the way you work, and now it has even more to offer!
Once the pricing tiers are released, our team will be taking a much-deserved pause to reflect on and improve the current MarkUp.io platform and features before diving into the next phase of our features roadmap.
While we do that, remember that the pricing plans go into effect on July 26. You can get even more details on what to expect by reading our FAQ. There's also still time to snag discounted pricing on the Enterprise plan, which you can do by contacting us here. Finally, if you're part of an agency, service provider or systems integrator, you should definitely check out our new MarkUp.io Agency and Solutions Partner program. Sign up today and start earning credits for this brand-spankin-new referral program!
We hope that the new MarkUp.io updates make your experience with the app even better. We love to hear feedback, so please keep the comments coming.
Now, save time on the feedback loop by starting your free trial 💗