MarkUp.io is going to hit 20,000 users today, which is a fantastic milestone for our team and the users who have adopted the product so far. It's also a figure that can be considered both a large number relative to where we are today and a small one relative to where we want to be in five years.
Nonetheless, it's a number that paints a story about what we're out to accomplish and why MarkUp.io has ticked up in terms of users and usage month over month since our launch in January. As we look back at the quarter, there were certain events, product updates, and usage metrics that led to MarkUp.io's rise as a platform-of-choice for many in the design and collaboration community.
If you're seeing MarkUp.io for the first time or have seen us post about it but finally decided to check it out, MarkUp.io is a platform that allows you to comment directly on any live/staging website, image, PDF, video, and other file types. Users invite colleagues and project stakeholders to collaborate on projects in real-time, keeping all digital feedback in one place.
Before COVID-19, companies were slowly undergoing a digital transformation, but today, that shift is happening at such an accelerated pace. As a result, the more that content is created digitally, the more a platform like MarkUp.io will come into play to support collaboration on that content. Undoubtedly, this quarter our team started to see the beginnings of that rapid transformation take place.
At the end of Q1 in March, MarkUp.io had 6,000 users. At the end of Q2 in June, we eclipsed 18,000 users. The surge of an additional 12,000 new users this quarter came on the heels of a massive work-from-home movement, the content for many organizations going completely digital, and the introduction of key product improvements. So here are the key themes for Q2 through MarkUp.io's lens:
Remote, Digital Collaboration is the New Normal
If you were to look at our Daily Active Users since January, there is a noticeable shift in adoption for MarkUp.io come March 10, the first week that many companies across the United States, including ours in New York City, made the announcement to work from home. Interestingly enough, by chance, we also had the compounded effect of going on Product Hunt at the very start of that week (something we scheduled back in early February).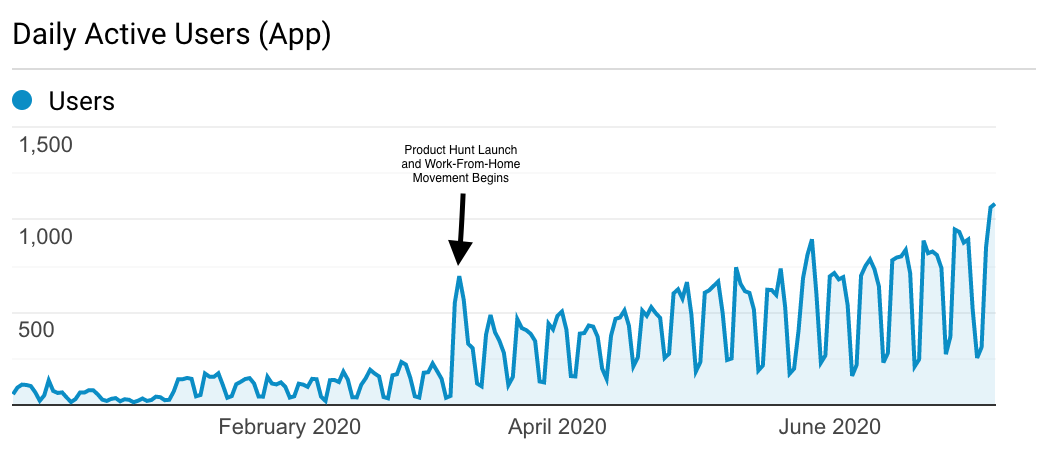 This was the first big surge in MarkUp.io traffic. At the end of Q1, as more teams began working remotely and collaborating digitally, there was an immediate wave of adoption in MarkUp.io that compounded right into the start of Q2. There is no doubt that COVID-19 has had horrible effects all around the world. At the same time, it has also forced companies to reconsider their stance on allowing people to work remotely, freely, and on their own time.
We don't know when teams will go "back to the office" but we do know that many tools are becoming an integral part of everyone's new type of office – their laptop at their home. This change is something we see as staying consistent for years to come and so far, MarkUp.io has been able to support thousands of people as they shift into this completely digital world. It's our goal to continue to improve their work by making remote collaboration with others as seamless as if they were together in one place.
After we saw this initial wave of remote teams using MarkUp.io, it also came with a ton of product updates for our team to catch up on in Q2. We had a lot of users who were not only looking for better ways to collaborate on websites but also other types of content like images. That brings us to our second key theme for the quarter.
Product-Led Growth Initiatives
Yes, I know this term gets overused, but it's really important. We were listening consistently to users coming into the product and the month of April very quickly opened our eyes to the different types of content on which teams needed to collaborate. We have long believed in encapsulating as much of the creative process as possible, starting with websites, and the ability to comment on images was a natural next step for the product and our users.
A part of this "images update" would also include something that a lot of users asked for: the ability for guest users to join a project without requiring them to add an email. Many users told us they wanted more collaborators to join with less friction and we felt it was important to deliver on that experience. A seemingly small tweak, this was one of the largest enablers for MarkUp.io's growth this quarter.
The other big product release was implementing better ways for users to communicate. Based on an early decision to make sure other parts of the product were in place first, we had waited until Q2 to implement email notifications and it was long overdue. These notifications would remind users of product changes, including new comments, replies, or resolved tasks.
Tackling both of these product initiatives led to two more sizable daily active user jumps in Q2. Using the same chart above, here is what happened after the initial "first jump" from the end of March: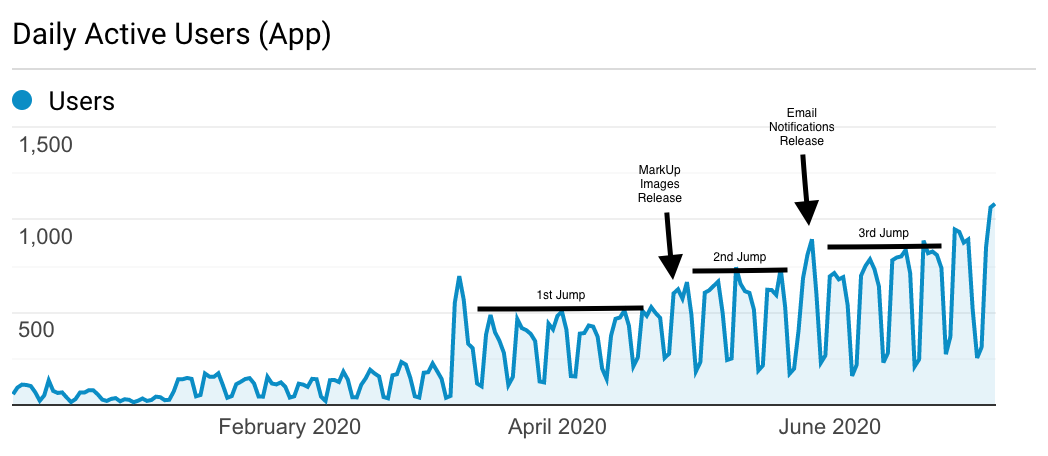 Releasing 1) the ability collaborate on image files and reducing friction for guest users and 2) having email notifications led to two really strong bumps followed by consistent usage in Q2.
And in conjunction with the amount of daily users shown above also came a lot of really exciting usage stats. For the second quarter of 2020, we had:
12,000 MarkUp projects created
15,000 invites sent
90,000 comments placed
Over 100 countries represented
These product improvements played a massive role in keeping users engaged and it's something we are focusing on even more going into Q3.
The Road Ahead
It's been an incredibly exciting quarter filled with a lot of lessons and a remarkable user base that is both avid about the product and pushing us to expand. I am so thankful for our wonderful team, our users who have backed us, and we can't wait for what's in store this quarter.
We have a lot of product updates and growth initiatives planned, most of which you can check out here. And if you haven't begun collaborating already, we invite you to join us by signing up for a free trial at markup.io.
Happy Commenting!