It's the first day of the video shoot.
How exciting, you tell yourself on your way to the set.
While you had pictured everything going smoothly, you were not prepared for the reality waiting at the shooting location.
You go inside, and chaos unravels as your teammates start to arrive.
There's missing equipment, people are late, and—worst of all—the coffee has not been delivered.
Who was in charge of scheduling and planning this whole charade?
Your enthusiasm fades rapidly in the face of disorganization.
At this point, it's too late to play the blame game. You just have to work with what you've got.
Good thing you've stumbled upon this guide to video production workflow. Hopefully, you'll avoid what happened here at future video shoots.
We'll go over the ABCs of video production workflow and discuss:
What a video production workflow is
The people who rely on an established workflow
The benefits of having a video production workflow in place
How to establish a video production workflow in five easy steps
By the end of this blog post, you'll know how to create a standardized plan for your future video production projects. This includes ensuring everything goes well from pre-production to the final cut.
Let's get into it!
What is video production workflow?
A video production workflow is a series of standardized, sequenced processes that a video production project goes through, from ideation to sign-off and beyond.
Specifically, a video production workflow includes activities like:
Creative briefing
Storyboarding
Project management
Asset management
Video editing
Color correction
Sound design and sound effects
Social media management
Other processes that usually go into video content creation
However, the point of having a standardized workflow is not just to have a checklist of things you need to do. It's more about having a standardized step-by-step procedure that you and your team members can follow when working on any film or video.
Think of a video production workflow as a video-specific project management technique. Having one ensures you'll stay on budget, make the most of your resources, and have a clear overview of the project timeline. Teammates will also understand their role in the big picture (literally) and how their work will impact other teams along the production chain.
Who needs to establish a video production workflow?
Video production workflows can benefit any team or individual involved in video creation, including:
Video marketing teams
Video producers
Video editors
Video reviewers
Stakeholders
Filmmakers
Directors
Freelancers
And it goes beyond Hollywood. Workflows are useful to anyone working on any video project, be it YouTube tutorials, short promos, or films.
5 reasons video production workflow is important
We've already established that you need a concrete video production workflow. But we haven't told you why yet.
Let's dive deeper into the reasons why it's important to have a well-thought-out workflow.
Reason #1: Stay on budget
When you have every process involved in the creation of your project laid out before you, it's much easier to manage your budget.
The right video production workflow enables you to reduce unplanned expenses—something most organizations struggle with.
In fact, little over 30% of businesses actually manage to finish projects on budget.
If there's a chance to increase your odds of hitting the budget, why not take it?
Reason #2: Better time management
A video production workflow is the way to go when you want to:
Estimate staff hours needed for each step of the process
Set priorities
Establish realistic deadlines
Delegate the right task to the right person
So, time management becomes easier when creating a workflow.
Reason #3: Stay on top of deadlines
Since workflows help you improve time management and set clear and realistic due dates for each production process, delivering work on time is effortless.
However, a video production workflow won't automatically help you avoid the planning fallacy.
To make sure your due dates are realistic, ask each team involved in the project to estimate how much time they need to complete their part.
However, keep in mind that we usually tend to underestimate the time we need to finish something and overlook possible delays or bottlenecks.
To avoid falling into the trap of wishful thinking, Harvard Business Review suggests that you overestimate the allotted time for a task by 25% more than the initial estimate. Most importantly? Prepare for the worst.
This tactic ensures that deadlines are achievable and that your project will experience the fewest delays possible.
Reason #4: Seamless remote collaboration and communication
When you follow a standard procedure for every project, you can establish reporting, communication, and collaboration flows to make teamwork more effective.
For instance, you can add feedback sessions and weekly calls to your workflow. When doing so, your team will have dedicated communication and collaboration sessions for each project.
Reason #5: Better production quality and increased productivity
Production quality increases when regularly scheduled feedback sessions are integrated into your workflow. Plus, regular feedback can assure teammates that they're performing their roles correctly, bringing about more job satisfaction.
In fact, a Clutch report identified a strong correlation between job fulfillment and feedback. Namely, 72% of millennial employees that receive relevant and constructive feedback on a regular basis find their jobs to be fulfilling.
An added bonus?
Job satisfaction motivates employees to be more productive.
How to establish the right video production workflow in 5 steps
Video projects never have the same requirements.
Fortunately, this basic five-step video production workflow can be easily adapted to any project.
This workflow follows the three main stages of video production:
Pre-production
Production
Post-production
In addition to the three production stages, we've also included two steps dedicated to feedback sessions and sign-off.
Plus, you will find an optional step that can help you improve your workflow for future projects.
Grab your planner and let's get some work done together!
Step #1: Pre-production planning
Hey, we know you can't wait to get shooting. 😉
But for the full-scale production to go as smoothly as possible, there's a lot of preparation and planning that you need to cover in the pre-production stage.
For example, you'll have to do things like:
Prepare the script
Write briefs for collaborating teams
Assign tasks
Establish a kickoff date
Create a project timeline
Find a location for shooting
Hire talent
It sounds like a lot of stressful work—and that's far from a complete list of pre-production tasks.
So, where do you start?
To make it easier, you can structure your pre-production workflow into three major tasks:
1. Briefing
Scripting is the best method to download your artistic view and video ideas onto a piece of paper so that the entire team can understand what your project is about.
To get your script right faster, you can schedule brainstorming sessions with all your teammates to ensure you're tuned in to as many inspiration channels as possible.
So, gather your marketers, editors, and anyone in between and create moodboards with imagery that conveys the concept behind your idea. 
To make sure you're covering all aspects of video production, you can also create another moodboard with visual or immaterial elements, such as audio, sound, film, lights, etc.
If you're creating video content for marketing or sales purposes, make sure to invite sales and customer support teams to your creative meetings—they are closer to customers and can provide valuable insights into what your audience looks like or the types of messaging they respond to.
Once you've established the main idea behind the project and figured out the mood you want to set, create a creative brief (a.k.a. a treatment).
The treatment needs to include:
Project objective (i.e., engagement, awareness, lead generation, etc.)
Metrics you will track to measure the success of the project
Deliverables
Target audience description
Budget and time estimates
After completing the treatment with all the info, make sure it's doable by getting it pre-approved by your sound and video engineers first.
To share your treatment for quick review and contextual feedback, you can always implement annotation tools like MarkUp.io. 😉
Next, share the document with your decision-makers and make any requested changes. Now it's time to start working on your script.
2. Scripting and storyboarding
It's the writers' time to shine!
Now, based on the approved treatment, the writers can start creating the script.
Since first drafts are rarely approved from the get-go, you might want to account for a few rounds of feedback when outlining the schedule.
To get to script sign-off as fast as possible, you can use tools that enable you to share documents quickly, pin comments contextually, and keep track of feedback.
As soon as the script gets the green light, it's time to move on to storyboarding.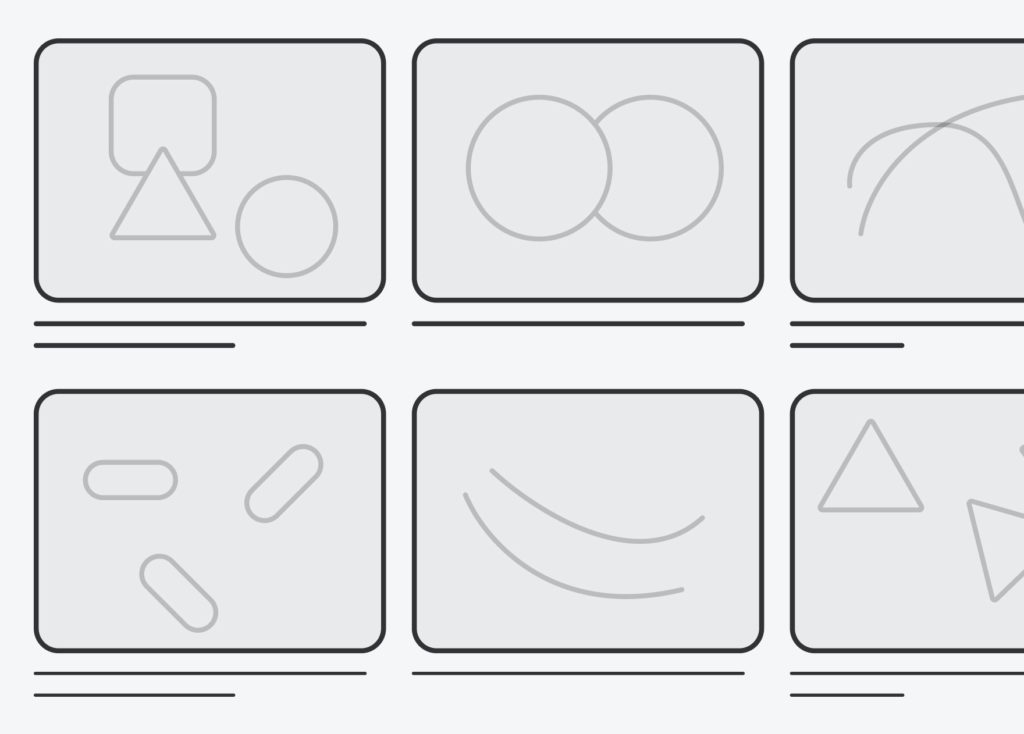 In this step, you'll bring your idea closer to life by breaking down each scene that will appear in the video.
Storyboards usually include brief descriptions of each shot (including any actions that need to happen), and details on costumes, among other components.
Using both the storyboard and script, you'll then create a shot list of all the necessary shots and where they should be filmed.
3. Scheduling
The last thing left to do before shooting is to create a detailed schedule to ensure everyone is present on set at the right moment.
The schedule should be as detailed as possible and should not leave anyone out.
So, you'll have to create timetables for everyone—from camera engineers, sound recordists, and light directors to video editors and actors.
While you're at it, don't forget to allow time for the post-production workflow. For this to flow seamlessly, you'll also need to create a timetable for everyone involved in the editing process as well.
Step #2: Production (the actual video shoot)
The best raw footage is captured on an organized set. So, check your equipment prior to shooting your first scene to ensure hardware (like cameras and lights) will not break down and cause any delays in your schedule.
Once the cameras start rolling, it's important to have easy access to the storyboard and shot list you've created during pre-production.
This way, you'll monitor progress easily and make sure you're sticking to the plan.
Keep in mind that you don't have to shoot scenes in chronological order. You can always make the decision to re-order the shots you've captured in the most schedule-efficient way.
To make this work, establish simple naming conventions that are easy to understand. Otherwise, your post-production team will end up wasting a lot of time trying to piece everything together.
Speaking of time savings…
While you're shooting the content, consider gathering b-roll footage at the same time. While this can save you lots of time, do note that it can be expensive as you'll need more equipment.
Regardless, if you have room in your budget for b-roll footage, you can also film behind-the-scenes footage, making-ofs, interviews, teasers, and other b-roll footage types you can release to keep your audience engaged.
Once you've got every shot covered and the footage stored and backed up digitally, you can step into the post-production workflow.
Step #3: Post-production edits and reviews
This is where all the magic happens! The post-production process can make the difference between engaging, high-quality content and an uninspired montage.
All the raw footage collected during the production phase is now going to undergo several editing processes.
A video editing workflow usually includes adding:
Visual effects
Sound effects
Voice-overs
Color grading and color correction
If the schedule and budget allow it, the video post-production process can start as soon as you've got your first shots.
To keep post-production as organized as the first two production stages, you can break it down into the six steps outlined below.
Let's see what each step looks like and which video editing software can help your team successfully complete each stage.
1. Content editing
Your editors will first create a rough cut by going through the raw footage and cutting the relevant shots to create a coherent story that follows the script.
The rough cut is then polished over and over again until the final cut stage is reached.
Tools: Adobe Premiere Pro, 2. CyberLink PowerDirector, Pinnacle Studio, etc.
2. Sound editing
Once the final cut is done, it enters another editing process: sound editing. At this stage, editors add background music, sound effects, and the soundtrack. Plus, they edit out any noise that shouldn't be there (i.e., background noise).
Depending on the footage and project type, editors might also have to reorder dialogue to better follow the story.
Tools: Premiere Pro, Riverside.fm, Audition, etc.
3. Visual effects
When hearing the phrase "visual effects," most of us think of the complex computer-generated imagery (CGI) that we see in sci-fi movies. In reality, visual effects are super common in most video productions.
Visual effects can include, for instance, replacing green screens with a cool background or adding animations of things the budget couldn't cover (i.e., adding a landing plane in a scene).
Tools: Autodesk, Adobe After Effects, FXhome HitFilm Pro, Blender, etc.
4. Audio level adjustments
After visual effects, comes sound mixing. This is performed by sound editors and involves adjusting the video's audio levels.
For instance, if background music overpowers a scene's dialogue, the sound editors will reduce the volume of the music so the actors' voices can be clearly heard.
Tools: Adobe Audition CC, Ocenaudio, Audacity, Audiotool, WavePad, etc.
5. Color grading
The last step in a typical post-production workflow is color grading. This stage entails frame-by-frame color adjustments that ensure visual consistency throughout the whole video.
Tools: DaVinci Resolve, Magic Bullet Suite, Adobe Premiere Pro, Color Finale 2, etc.
As soon as the post-production edits are done, the resulting product is ready to be submitted for review.
However, it's best to have more than one pair of eyes for each post-production step to ensure the editors are not overlooking important details. So, we recommend you add informal reviews to your post-production process.
Tools like MarkUp.io help editors easily share what they've worked on with team members via a link or email.
Then, collaborators can share their perspectives through frame-accurate comments that can be contextually pinned to any element in a frame.
With extra reviews, you're likely to minimize the number of versions and revisions needed until sign-off.
Step #4: Feedback and approval
After internal reviews and edits have been made, the final video is ready to be shared with stakeholders for official proofing.
To streamline the review and approval process, you can share the project files with all the reviewers via a link, using MarkUp.io.
With collaboration tools like these, there's no need to install anything as the whole proofing process is web-based and works from any internet browser.
When reviewers open the MarkUp link, they will gain instant access to the video and will be able to add feedback frame-by-frame.
Plus, editors can see the added comments in real-time, which enable them to make revisions quickly and ask for clarifications to avoid delays.
On the other hand, if editors and reviewers don't sync their schedules, email notifications will keep everyone in the loop about the new activity in the shared video MarkUp.
As you can tell, we highly recommend minimizing miscommunication with video annotation tools. You'll also get to the final draft stage faster and with fewer revisions.
The alternative?
Really long emails and confusing feedback. Without an annotation tool, reviewers would have to write emails listing timecodes and their corresponding revision requests.
Which option do you think is more time-efficient?
Click and comment in context or long email chains of explanations?
Since time is always a sensitive matter in video production, we recommend you choose the first feedback option.
Step #5: Project sign-off and publish
As soon as your team implements the required edits and you have a final product everybody is proud of, the decision-makers will have to sign off on the project.
After the final approval and sign-off, the fruit of your intense labor is ready for the world to see.
You can now share the final version with the client or marketing team.
Keep in mind that when working for clients, the feedback loop might reopen after delivering the project. You may need to account for additional requests for revisions that you need to account for in the project schedule. So, always reserve plenty of time for this step of the process.
Also, schedule some time to create promos and montages for different social media and video-sharing channels and platforms if required to promote the video.
Once the client and/or marketing team are happy with the final draft, your work is (almost) done.
Optional step: Debriefing
Even though debriefing is not mandatory, we highly recommend you include this step anyway.
After all, it's a great opportunity to fine-tune your video production workflow to the unique needs of your team.
It gives you and your team a chance to assess the project's successes and failures and pinpoint any problems or failures that you should try to avoid in the future.
Hold a meeting with the people involved in your production and ask questions like:
What went well during production?
Where were the pain points?
What could have been done better?
Were there bottlenecks, delays, or overspends, and why?
An in-person meeting isn't necessary, and may not be practical if you've worked with freelancers or independent filmmakers.
Instead, consider creating a document with the questions you want to be answered and sending it out for feedback from your team, clients, and other stakeholders.
Use the feedback you receive to amend and update your workflow. For instance, you can change the order in which you complete necessary tasks or include some people earlier in the process. It's up to you and what you think is best for your team!
While understanding challenges is useful, celebrating a job well done is vital.
Give your team feedback on completing the task at hand and make sure they feel valued.
This will ensure they do another great job on the next production.
When debriefing, you should also consider the feedback you've gathered from all the revisions.
For a quick overview, you can go to the Video MarkUp's "Resolved" tab. This feedback archive stores all the resolved comments in one place, so you can conveniently access them whenever necessary.
Once you've analyzed your feedback, you're ready to adjust the workflow for your next awesome project.
We're confident you can do it!
Over to you
We're rooting for you and would be absolutely thrilled to be part of your video production workflow adventure!
We've got plenty of informative blogs on video annotations, artwork approval processes, creative workflows, and much more.
Take your video production to the next level! Sign up for your MarkUp.io account today.
Frequently asked questions (FAQs)
Q1. What are the stages of a video production workflow?
The stages of a video production workflow are:
Pre-production: briefing, scripting, and scheduling
Production: shooting the video
Post-production: editing, proofing, approval, and debriefing
Q2. Why is having a video production workflow important?
Having a standardized video production workflow can help production teams:
Stay on budget
Make better use of their time
Meet deadlines
Boost collaboration
Improve video production quality