"Should I add spaces before and after the em dash?" Rowana, the senior copywriter, asked. You could hear the strain in her voice cracking under the pressure of the project's looming deadline.
Nobody answered.
Nobody knew where to look for answers, either.
The project requirements had been vague from the get-go. And now, Josh the Project Manager was realizing it was too late to clarify expectations with the client.
If only Josh had asked the client for a comprehensive creative brief before assigning this project to his team.
Moral of the story: Don't be like Josh! Ask the right questions and create a thorough creative brief before taking on a new project.
Your creative team will be grateful to have all the project requirements logically structured in a document that they can reference easily whenever necessary.
Don't know where to start?
We'll tell you everything!
Table of contents
What is a creative brief?
Hopefully, you've never had to experience the nightmare described above. Yet, many creatives are not as lucky, instead working overtime and burning themselves out to meet project requirements that were never specified in the first place.
For the uninitiated, a creative brief is a one-page document that outlines the requirements of a creative project. It outlines important details including:
Budget
Due dates
Project goals
Parameters for deliverables
And other key details that will enable a smooth production phase.
Creative briefs are usually provided by clients and other stakeholders that hire or assign a creative team to a project.
These documents help copywriters, designers, marketers, and other creatives understand what's being requested from them, along with essential deadlines and how they're expected to deliver project assets.
When done right, an effective creative brief leads to faster project delivery, higher compliance with a brand's quality standards, fewer edits, and shorter review cycles.
When done incorrectly … well, you saw what happened with Josh and Rowana's team.
10 components of a creative brief
Speaking of Josh, the scenario described above could have gone a lot differently had he incorporated a creative brief into the team's workflow.
Maybe next time Josh leads a project, he'll remember to collect these details in the project's creative brief:
Company overview: A summary of the client's brand that outlines what it stands for, the services they provide, and other relevant information.
Project summary: A brief overview of the project's key details.
Goals and objectives: The expected outcomes once the project launches (i.e., brand awareness, conversions).
Target audience: Information about target customer demographics.
Competitors: Competing content and competitors pushing a similar message to the client.
Messaging: The message that the project is trying to convey.
Expected deliverables: A description of the creative assets the project requires (i.e., reports, documentation, eBooks, white papers).
Deadline(s): The due date(s) by which the team should finish the project's deliverables.
Budget: The amount of money the client is willing to spend on the project.
Stakeholders' contact details: Points of contact the team can turn to if clarification is needed.
In addition to these basic elements, ask clients for style guides and brand guidelines. These guides are crucial for ensuring that your team members use the right tone of voice and brand identity when drafting the deliverables.
Why is writing a creative brief important?
You wouldn't expect an engineer to build a car without providing a blueprint, would you? The same concept applies to the creative process. When you give your team a well-structured creative brief, it ensures they are on the same page as the client. The creatives will have a deep understanding of what the end product needs to look like, when it needs to be ready, and who it's being built for.
In short, creative briefs give creative professionals clear instructions on how to approach a new project.
Still not convinced? Here are four more reasons creative briefs are necessary for every agency's workflow:
Reason #1: Saves you time
Let's say you have a meeting with a client where you learn about their project. You take some notes as the meeting progresses, thinking you've gotten the gist of it.
Before the meeting ends, the client asks, "Any questions?" Rushing to get the call over with and go back to your to-do list, you quickly say "No, everything is clear."
Only… it's not.😵‍💫
After you present the new project to the team, you get tons of questions you don't know the answers to.
What's the word count on the white paper?
Are we supposed to create the graphics as well?
Who's going to read this?
Is this company B2B?
What now? Well, you only have one option: you compile a list of the questions and email it to the client.
After you hit "send," you almost instantly receive an automated reply that says the client will be out of the office for one week.
The project gets delayed.
If only your first meeting with the client had included a creative brief. You never would have known your client is on vacation. Instead, you would have been too busy coordinating requested deliverables with your team and the project would have followed the established timeline with no delays.
In short, a thorough creative brief will spare you from constantly asking for clarifications. This keeps your team on track, able to meet deadlines, and saves you from the time otherwise spent attending meetings and writing emails.
Reason #2: Saves you money
When you have every project detail laid out in a document, you manage your resource more efficiently.
Let's circle back to our previous scenario where you had to wait a whole week for the client to get back from vacation and answer all of your project-related questions.
During that week, your team was on hold.
Instead of getting the project done in one week, you'd have to stretch the timeline to two weeks, missing out on other opportunities and thus losing money.
A creative brief keeps the creative work process humming along and helps you get more done faster, ultimately leading to increased profits.
Reason #3: Increases your chances of getting the deliverables you need
By now, you understand that creative briefs bring creatives and stakeholders on the same page.
And when the instructions are clear and thorough, the deliverables are more likely to be up to par with what the client envisioned.
Reason #4: Brings transparency to the creative process
Think of creative briefs as project roadmaps for both the client and the creative team.
It helps creators and stakeholders understand each other's roles better. Plus, creative briefs offer insights into what everyone can expect from the process.
Who benefits from a creative brief?
It's settled: creative briefs have tons of advantages. But what kinds of businesses can harness these benefits?
Creatives
The first and most obvious category of professionals who, frankly, need creative briefs to be a part of their workflow.
When we say creatives, we mean:
Copywriters
Web and graphic designers
Social media managers
Photographers
Illustrators
Editors
And pretty much any other artist who makes a living with their talent.
Briefs make it easy for creators to align with a brand's voice and identity when working on any project.
For instance, a design brief touching on the target audience, brand colors, typography, and other deliverable-related details will provide the design team with all the information needed to materialize the client's requirements.
The same goes for the rest of the content creators — briefs help them understand the wants and needs of their clients and target audience.
Creative agencies
No surprises here – creative briefs are important tools for marketing teams and advertising agencies as well.
Before these creative teams can get started, they need to set the campaign goals straight. Briefing helps them do that.
Additionally, a brief gives marketers and advertisers key details on:
Competitors
Target audience
Project background
Company profile
All of these elements are vital to a successful campaign.
Remote teams
Remote collaboration can be tricky. It can take forever to bring everyone to speed on upcoming projects and tasks over email or meetings.
Instead of sending long emails and trying to schedule meetings that don't disrupt anyone's creative workflow, you can share a creative brief with all team members to effortlessly update everyone on the latest project requirements.
All businesses 😉
It's true: creative briefs are predominantly used by marketing, advertising, and creative agencies.
However, any business with an online presence and collaborates with content creators (or even the company's own marketing department!) can benefit from creating a creative brief. By making a creative brief a part of your workflow, you ensure that stakeholders clearly articulate what they need and when they need it. This way, there will be less miscommunication and more time spent getting work done.
How to write a creative brief in 10 simple steps
So, you understand why a creative brief is important. But we haven't told you how to write one.
Yet.
Without further ado, the steps to writing a creative brief in no time are the following:
Write a creative brief with this info ⬇️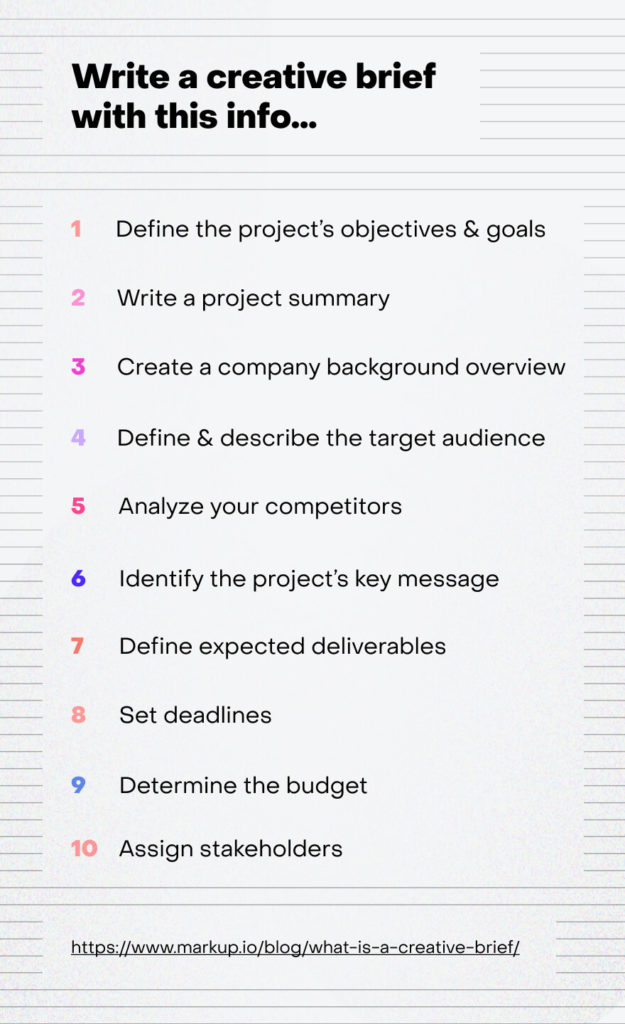 In this section, we will go through all ten steps and discuss tips on ensuring you're getting it right.
Let's get right into it!
Step #1: Define the project's objectives and goals
This step should happen during the kickoff meeting with the client to define the project's goals and objectives. Ask the client what they're trying to accomplish with the project.
This is important because the way a creative approaches a task is different for every project.
For example, a brand awareness campaign will have a different call to action (CTA) than a lead generation campaign. So, take the time needed to fully understand what the client wants to achieve before you start. Not only will getting this clarification help your team be effective — but it will also show the client that you value the relationship and want to do everything possible to help them meet their goals.
Step #2: Write a project summary
Next, condense the meetings and email exchanges you had with the client into a few sentences that explain what the project is about.
Keep it brief and make it easy to scan.
Use bullet points to structure the information so readers can easily comprehend the main points at a glance.
Step #3: Create a company background overview
Don't rely on the About us page on the company's website. While you'll likely find important highlights on the client's website, asking them to share relevant information about the business is best.
You can also ask about their customers, if they've done any similar projects in the past, what the company's mission is, and other information that can give your team a sense of who they're working with.
Step #4: Define and describe the target audience
Create a buyer persona based on the existing customer base of the client, as well as the demographics the client wants to reach with the project.
Include relevant details like:
Age, gender, and location
Income
Education
Job title
Hobbies and interests
Step #5: Analyze your competitors
Take a look at competing content and similar projects to the one you're working on. Jot down what they do right and what they got wrong.
Try to find case studies based on competing projects and identify strategies that helped yield positive results. Figure out why the brand did what it did and understand why its approach worked. From there, reverse engineer their tactic, but make it your own.
You don't need to reinvent the wheel – just figure out how to make it spin better.
Step #6: Identify the project key message
Every project has a message behind it.
For instance, a marketing agency can create an eBook that educates readers on how to choose the right agency based on specific business needs. The agency working on this project is trying to tell their audience:
"Hey, look! We're selflessly helping you choose a collaborator even though the right fit for you might not be us. We just want to help you out. If it turns out we're a good fit for your business, we're more than happy to collaborate with you."
In this example, the agency is building credibility while also working to increase brand awareness. Not every reader who downloads that eBook will reach out to them immediately — but some might remember the agency later when they're in need of creative help. This is why it's so crucial for you and your team to identify what the client is trying to communicate to their audience through the project.
Step #7: Define expected deliverables
Establish what deliverables are expected, how many of them need to be created, and in what format. Be as specific as possible and define details like:
Word count
Tone of voice
Style guidelines
File format
Formatting settings
And other relevant data.
Step #8: Set deadlines
Once you figure out the requirements and complexity of the tasks entailed by the project, you'll be able to estimate how much time each task will take.
If you're not sure, ask the team members you're going to assign the tasks to for a rough estimate. From there, work together to create a realistic project timeline.
Step #9: Determine the budget
Now you have all the variables figured out and can calculate the budget required to complete the project.
Things to keep in mind when assembling a budget for a project include:
Staffing: How many people need to work on this project, their hourly rates, and an estimate of how many hours each employee needs to work to complete their tasks
Software and hardware: Is any new equipment necessary?
Training: If new equipment is needed, some hours of training might be implied. These hours will also be billable.
Outsourcing: Will you be handling all the tasks in-house? If not, make sure to include the cost of third-party services in your budget.
Profit: Add a profit margin to the operational costs.
Step #10: Assign stakeholders
Finally, establish the resources needed to complete the project and assign roles to each stakeholder and collaborator.
For example:
Content writer (eBook) – John
Content writer (landing page) – Michelle
Designer (eBook) – George
Internal reviewer – Amanda
Project approval – Victoria
Final step: Share the brief with stakeholders
After thoroughly filling out the creative brief, get everyone on board before your team starts working on the project.
After all, one of the biggest causes of project failure is scope creep — when people start making last-minute additions to a project.
Share the brief with management, clients, and team members to ensure every person involved understands their role, tasks, and responsibilities.
To make things easier, use feedback tools like MarkUp.io to collect feedback from everyone in the same place.
Instead of piecing together everyone's input from different communication channels, tools like MarkUp.io allow you to share your brief via a link or email with any number of reviewers.
Then, your collaborators can add contextual comments to specific elements of the creative brief. They can ask questions, request clarification, or confirm that they understand the project scope and their part in it.
Using this platform, you won't have to hound collaborators for their input via email ever again. Instead, you'll have a single repository with everyone's feedback so you can easily address it.
For a more in-depth explanation of this process, check out our guide on document review to learn how you can establish a seamless document approval process.
That was the last theoretical detail of this post, we promise!
Now you probably want to see some examples of how these technical bits fit together in a creative brief.
Free creative brief template
No need for you to search for creative brief examples. We've got something better!
Here's a creative brief template you can use whenever you start working on a new project.
It contains all the must-have elements that make a brief detailed enough to be thorough and not too long to be considered a blocker by your team of creatives.
Click here to download our creative brief template!
One more thing before you go…
Wrapping up
Before working on your creative brief, head to our blog for useful content on taking creative collaboration to the next level.
If you're ready to optimize your workflow, MarkUp.io is here to help. Start your 14-day free trial to cut the time needed for your feedback loops in half!
Frequently asked questions (FAQs)
Q1. What's the difference between a creative brief and a marketing brief?
The main difference between a creative brief and a marketing brief is that a marketing brief is a specialized type of creative brief. It contains marketing-specific elements like key performance indicators, communication channels, market segmentation, etc.
Q2. What is the purpose of a creative brief?
The purpose of a creative brief is to bring creative professionals and project stakeholders together on the same page. Since it contains all the key details of what a project entails, and defines the client's expectations, and the project objectives, a creative brief's purpose is to also ensure faster project approval cycles.
Q3. Who is the target audience for a creative brief?
The target audience for a creative brief encompasses key stakeholders, clients, higher-ups, and creative collaborators.
Q4. How long should a creative brief be?
A creative brief should be a one-page document that provides an overview of the key project requirements, as well as other relevant information about the company, audience, and deliverables.