Roses are red,
Violets are blue,
Ad proofing fails are hilarious…
… until it happens to you!
Back in the day, an ad fail would have probably been forgotten pretty fast. But the internet never forgets!
These days, ad proofing is the only way to prevent unfortunate misspellings and online ad design fails.
To help you steer clear of PR issues due to ad mistakes, we've created this guide that covers:
What ad proofing is and what it can do for your business
Benefits of using ad proofing software
Best ad proofing software on today's market
A three-step ad proofing tutorial
Let's get to the tea!
What is ad proofing?
Ad proofing is the process of reviewing an advertisement's components (such as ad creatives and ad copy) to ensure that the ad is error-free before it goes live.
Ad proofing is made possible with the help of real-time annotation and commenting platforms.
Errors prevented by ad proofing include:
Grammatical errors
Misspelled words
Design mishaps
Vague copy
Photoshop fails
Unintentionally rude or offensive copy
And that's barely scratching the surface! There are just so many things that can go wrong and turn your ad into a meme (and not in a good way).
Take a look at this newspaper ad from Palm Partners Recovery Center, for example.
We're pretty sure math can't put you into rehab.
With an innocently misspelled word, the ad loses its credibility and instantly becomes a punchline—even though its intended message is no laughing matter.
Sure, there is no bad publicity, but going viral due to a sloppy ad review process is not ideal for any brand.
While ad proofing is necessary for preventing PR disasters, that's not all it can do. Read on to find out the many ways ad proofing can also help you improve your workflow.
Top 6 benefits of using ad proofing software
We've established how important ad proofing is to ensure the copy and design used in your campaign are doing justice to the intended message.
Chances are you feel intimidated by adding yet another process to your creative workflow, thinking this might translate into overflowing email inboxes, infinite feedback loops, and the like.
It doesn't have to be this way!
In addition to keeping your brand's reputation pristine, ad proofing software can help you enforce great operational efficiencies.
1. Streamlined communication
Ad proofing software can help you cut back on the number of emails you send and receive daily.
Did you know that we receive over 80 emails daily on average? Think of how many of those emails are related to giving feedback. Then, picture how much easier your life would be with that chunk gone!
Not only will ad proofing software solutions eliminate unnecessary emails, but these types of tools can also improve the efficiency and effectiveness of your communication, the lack of which—according to 86% of employees—is among the top reasons for productivity failures.
2. Seamless collaboration with various stakeholders
Ad proofing software solutions were developed for you to seamlessly integrate ad proofing into your day-to-day without breaking a sweat trying to interpret cryptic feedback from your higher-ups and clients.
Namely, ad proofing tools enable you to create markups of your designs and ad copy that you can share with whomever you want via link.
The person to whom you send the link can access your markups and leave contextual feedback and suggestions, usually by dropping a virtual pin on the markup.
Voila! Collaboration instantly becomes easier within any remote team.
3. Save all ads and assets in one place
Ad proofing software tools are great for staying organized and keeping all deliverables in one place.
As a result, your team is likely to be more efficient.
An added bonus? Over 40% of employees expect to be more productive in a better-organized workspace.
Further, 28% expect an organized workspace to lead to time savings of as much as one hour per day.
Now, if your team has five members, you can save 25 hours per week! It's almost like having an extra teammate on a part-time schedule.
4. Consistent ad creation and ad optimization
Keeping imagery and copy consistent through lengthy ad campaigns may not always be easy—especially when the style and tone of voice of the campaign were established through feedback sessions and not conceptualized at the start.
Instead of scrolling through your inbox and browsing through the previously delivered assets, you can have everything in one place in your online proofing software's workspace.
5. Improved feedback loops
Neverending feedback sessions are never fun:
⇒ Creatives get frustrated because feedback over email is always hard to implement.
⇒ Clients get frustrated because creatives don't make edits in the exact way clients envisioned them.
The result?
Endless email exchanges, bottlenecks, missed deadlines, and all those things that shall not be named in a creative agency.
The simplest way to avoid the Voldemorts of project management is to simplify your proofing process with ad proofing software.
This way, you can leverage visual commenting to avoid confusing feedback, lots of passive-aggressive email threads, and the need for infinite revisions.
6. Improved workflow
Thanks to the Einstellung effect, your first idea might not be the best way to approach a project.
This phenomenon happens when creatives enter a so-called mechanized state of mind where they use previously-learned strategies and shortcuts to solve a problem even though there might be better methods to do so.
The same can happen when working on an ad. You might not be aware of your own bias and end up responding to a client's brief in a meh way.
At the same time, you might have a distorted view of how people will interact with the ad copy and design.
You can certainly do better!
A way to prevent this from happening is to integrate ad proofing into your creative workflow.
The opinions of teammates with different experience levels and professional backgrounds can help you get out of your own head and overcome the Einstellung effect.
You could even initiate a pre-signoff ad proofing session during which you just ask for your team's opinion on your work.
Integrating this extra process into your workflow can help you expand your creative horizons.
To sum it all up: ad proofing software is the perfect tool for capturing feedback and getting the client's signoff while ensuring your mind is not trapped in a box.

5 best ad proofing software
Researching a new software market can be quite intimidating at times.
To spare you some eye-straining hours in front of your computer, we put together a list of the best ad proofing software options available today.
These ad annotation tools are great for:
Design teams and graphic designers
Development teams
Marketing teams and marketing agencies
….And pretty much anyone else who is involved in the ad creation process and wants to streamline the proofing process.
Tool #1: MarkUp.io
Oh, look! First on the list is us. 😊
MarkUp.io is a leading visual collaboration tool that can help you optimize your ad proofing and approval workflow through contextual feedback.
Features
MarkUp.io's functionality revolves around making the asset review process a breeze with features like:
Pricing
For now, our platform is free! But that will change soon (don't worry – we'll always have a free plan available for users!). So, create an account and give MarkUp.io a try.
Tool #2: Ziflow
Ziflow is another great enterprise-grade online proofing tool that aims to minimize the number of revisions stakeholders need to sign off on.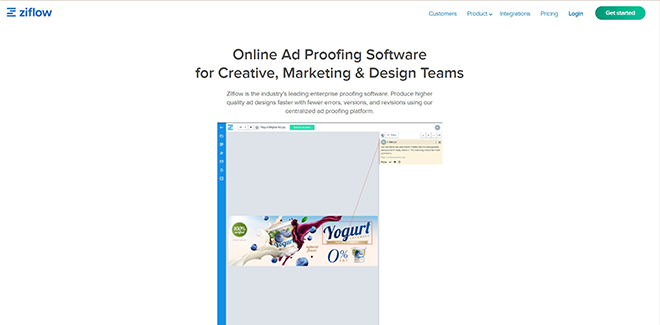 Features
Ziflow features comprehensive ad proofing tools that include:
Ad version control and comparison
Review of workflow notifications
Markup and annotation tools
Pricing
Ziflow is priced on a per-user, per-month model. It also offers a free version with limited functionality.
The premium plans start at $20 per user per month.
Tool #3: GoVisually
The next proofing platform on our list is GoVisually—a great tool for reducing the duration of your creative review process with visual feedback.
Features
The most relevant features provided by GoVisually include:
Visual commenting tools
Notifications for new comments
Version comparison
Pricing
GoVisually's pricing plans range from $25 per month for one user and 10 projects to $60 per month for five users and 1,000 projects. A 20% discount applies to all plans when billed annually.
Tool #4: ReviewStudio
ReviewStudio is a proofing system that helps creatives and marketers collaborate in a better way and gather feedback faster and more efficiently.
Features
ReviewStudio features capabilities like:
Markup and annotation tools
Version control
Live review sessions
Pricing
The pricing tiers offered by ReviewStudio start at $19 per month for one user. The most expensive plan costs $289 per month for 50 users. If billed annually, each pricing plan includes two free months.
Tool #5: GoProof
GoProof is an online proofing solution designed as an extension for Adobe Creative Cloud apps.
Features
The extension makes remote co-editing easier within the Adobe environment with project management tools, workflow templates, and other tools that include:
Proofing markup tools
Automatic version control
Proofing updates in the activity timeline
Pricing
GoProof doesn't offer any details on pricing on their website. But, according to Capterra, GoProof's pricing starts at $1,500 per year and is based on the number of users.
Bonus: useful tips for choosing the best ad proofing software
All solutions look perfect on paper (or in this case, on their websites), which can make the selection process lengthy and more difficult.
To choose the right tool, you should focus on your unique business needs and how the tool you're looking at can fit them rather than being blinded by shiny, nice-to-have features.
Of course, there's no one size fits all in this case. But that doesn't mean you should spend weeks researching software comparison posts and online reviews.
The tips below will help you decide which ad proofing software can help your business be faster and more organized.
Define the goals of your ad campaign
When you have the campaign goals in place, you'll know what ad creatives you need to achieve your objectives.
When doing so, you will know what to look for in terms of a tool's capabilities (i.e., video annotation, image annotation, audio annotation, etc.).
Compare ad proofing tools' capabilities
After you've established your needs, the next thing you need to do is ensure you're getting the best bang for your buck in terms of capabilities and features.
Compare ad proofing tools' ease of use
The last thing you want is to invest in a tool that requires lengthy training sessions and has a counterintuitive interface that becomes an obstacle in your workflow.
To avoid that, sign up for free trials, request demos, and read tons of user reviews.
Compare ad proofing tools' integrations
It's essential to seamlessly integrate your new ad proofing tool into your existing workflow.
For example, if you're part of an asynchronous work environment and rely on Loom rather than Zoom, you could greatly benefit from using a tool that offers a Loom integration. 🤭
Choose a tool that allows you to invite external collaborators
Make sure that the solution you're choosing allows you to easily collaborate with your business partners and team members.
Check out MarkUp.io for free
To make your decision-making process easier, create a free MarkUp.io account.
Enough with the theoretical stuff already!
Let's get our hands dirty with a practical demo on how you can review an ad in minutes, without sending a single email. 🤭
How to achieve seamless ad proofing in 3 simple steps
With MarkUp.io, you can send ad deliverables to external reviewers in no time. It only takes a few clicks to upload and share your media files.
1. Upload your ads and other assets to MarkUp.io
After you've logged into your account, you can create MarkUps of your ad creatives by clicking on the "Upload" button.
Next, you can drag and drop or browse and select any file you want to upload. As soon as the upload is complete, click on the "Create MarkUp" button.
Our platform supports many file types, including JPG, JPEG, PNG, SVG, BMP, GIF, PSD, AI, EPS, TIFF, RTF, TXT, DOCX, PAGES, ODT, PPTX, HTML, and more.
Alternatively, you can also create MarkUps of live web pages (i.e., landing pages) by simply pasting the corresponding URL into the "Enter a URL here" field. Google Chrome users can make this step even simpler by adding the MarkUp for Chrome extension.
Once you've done that, click on the "Go" button and our platform will instantly load an identical copy of the linked web page.
2. Add real-time feedback, annotations, and comments
After creating your MarkUp, simply drop a pin anywhere on the page and the comment box will pop up.
Once the box is displayed, start typing your comment (pro tip: add some personality to your feedback with an emoji 😀). Next, click on the "Post" button to make your comment active.
Now, share your MarkUp with your remote collaborators by clicking on the "Share" button on the bottom right side of the screen.
You can either invite your team members, clients, stakeholders, etc., to view and proof the project via email or copy and share the project link over the communication channel of choice.
3. Resolve comments and deliver on time
Once your collaborators receive your invite or link, they can access the MarkUp of your creative project and leave comments for you to implement.
As you apply the required edits, you can resolve the already addressed comments.
You can keep track of all the comments that were ever active in a MarkUp by going to the "Resolved" tab. Once there, you can view the feedback history of your project.
At the same time, you can also unresolve comments that you might've accidentally resolved.
Finally, all that's left to do is to get your final draft ready for a timely, headache-free signoff. 😎
Over to you
Did you just become an ad proofing expert? 👀
Yes, yes you did.
How about we take all this new knowledge and put it to good use?
Sign up for a better ad proofing process here!✋
If you have further questions about annotations and proofing your ads, we'd love to answer them all.
So, don't be shy.