You find yourself scratching your head and staring at your screen in frustration.
Where did it all go wrong?
You invested a lot of resources into creating a video but only attracted five views.
After a week!
The truth is producing a video can be tricky, and even experienced people find themselves in situations like this one.
So, pick yourself up, dust yourself off, and get back to creating.
Here are 9 video production best practices that will help you avoid this situation in the future–and on your way to creating videos that get sweet, sweet views. 
Table of contents

#1: Prioritize video quality
Videos are, without a doubt, one of the most engaging content types in any industry.
They can help you connect with your customers, provide valuable information, and create brand awareness. But they can also be tricky to produce.
So, if you take anything away from this article, and want to attract viewers and build your audience, make sure you prioritize video quality over quantity over any other video production best practices.
Bad videos can do more than simply waste your time; they can damage the reputation of your brand.
And it doesn't stop there.
A wrong impression leads to little (or no) engagement, resulting in a low return on investment (ROI) on what was spent during the video production.
So, how do you prioritize video quality during production?
By using:
Top-notch filming equipment: It's important you use devices that can produce high-quality imagery, such as professional mirrorless cameras like the Sony A7 III, Sony A7S III, or the Canon M50 Mark II, that can record videos in 4, 6, or even 8k. Make sure you use lenses that don't make noise when autofocusing.
Lighting equipment: Professional-looking videos require more than just capturing images; they also need lighting.
A 5-in-1 reflector with black, gold, translucent, white, and silver surfaces will give you a wide range of options. Start out by getting an LED softbox lighting kit along with some light domes for even better illumination.
Tripods or Gimbals: A tripod or gimbal stabilizes a video camera. If your video doesn't need much movement, a tripod can improve video quality. If you have to move while shooting the video, however—for example, if it is an action sequence or involves vehicles in motion—a gimbal would give you better results than a tripod.
But video quality goes beyond visuals. It also involves
Using the right audio equipment, such as a shotgun or Lavalier microphones, to eliminate background noise. What's the point of shooting in 4k resolution if nobody can understand what you're saying?
Working with videographers, editors, technicians, and lighting experts.
Choosing the right location and talents.
Using professional video editing software like Final Cut Pro or Adobe Premiere.
Collaborating with marketing experts and copywriters to produce an engaging script or storyboard viewers might resonate with.
All of these can contribute to producing high-quality videos for your brand.
Don't just publish content, though. Again, publish quality content.
One of the best ways to achieve this is by setting clear standards you then enforce during the review part of your video production workflow. You can use a collaboration tool like MarkUp.io to get feedback on video projects. You can also use the same tools to get feedback on scripts, storyboards, and other content before you publish.
By automating the flow of feedback, you'll have time to focus on other aspects of your review and approval process. Feedback will be faster, more consistent, and more accurate. No need to hunt team members or stakeholders down for approval!
Although viewers may be impressed by the quality of your video, that's only a limited lifeline. You have to use their emotions (in a good way) and get them to trust you—but how?
#2: Establish an emotional connection
If you love animals, a YouTube video of an adorable kitten or puppy will probably bring joy to your eyes.
Let's prove it with this adorable GIF.
What idiot is cutting onions around here? 🥹
Establishing an emotional connection means producing an authentic video that viewers can relate to. A video that can evoke emotional responses (such as joy, sadness, excitement) or create a bond between the viewer and the video.
You want viewers to feel good about your brand, so make sure their impression of it is positive.
So, how can you create emotional connections with your viewers?
First, you need to study your target audience.
Here's how it's done:
Identify the ideal demographics of your target customers, like gender, age, educational level, income, and more. This can help you understand who they are.
Interview people and conduct surveys to gain insight into their behaviors, patterns, and motivations.
Research your competitors' audience. Analyze what works for them and what doesn't.
Analyze the audience's behavior, what they visit, and how long they stay on your site so you can identify their pain points. Then solve those problems!
Understanding your audience allows you to create content that appeals to their emotions.
With that knowledge, you can now:
Create a compelling storyline they can relate to.
Incorporate relatable scenarios and characters.
Highlight personalities you think your audience would enjoy getting to know.
Use music or sound effects that will resonate with your audience.
But do all video types require emotional connection?
No!
Videos that are more informational or educational don't need to trigger an emotional response. For example, a how-to video demonstrating how to use software can be informative without evoking emotions in viewers.
Other video types that fall into this category include:
Documentary-style videos.
List-type videos.
Explainer videos.
Product demos.
Rather than making viewers feel something, these videos are better made by showing off creativity and a memorable storyline.
On the other hand, videos that are meant to elicit an emotional response include:
Video ads.
Brand stories.
Social media videos.
By emotionally connecting with your audience, you can easily persuade them to do things like…
#3: Get to the point fast
Did you know that every day almost four million videos are uploaded to YouTube?
Yup, that's right. That's roughly 271,300 hours of video content.
With that many videos in existence, it's a struggle to capture your audience's attention.
A 2018 study by Prezi found that more than half of those surveyed were selective about the content they spent their time on.
That's because they have so much content to choose from.
To build a strong relationship with your audience, not only should you create engaging videos, but you also have to be clear about why they exist in the first place.
This leads to
Increased shareability. If a viewer understands what a video is about immediately, she's more likely to share it—and increase its reach.
Improved brand perception. A well-made video can be a valuable tool for promoting your product or service in the marketplace.
Increased conversions. If you create a video as part of your content marketing strategy to increase sales, viewers will stay engaged if the video gets straight to the point.
Now, your audience knows what they're getting into and is more likely to stick around.
To make it a super-connected viewing experience for you and your audience, it's important to let them get a glimpse of who's behind the video by branding it.
#4: Incorporate branding
Have you ever watched a video so good you wanted to find more like it?
Think about how popular video snippets are on platforms like Instagram and TikTok. The comment section is inundated with people demanding where the full video can be viewed.
It's frustrating when you don't know where an interesting video originated. If it's a brand video, that can cost its makers, potential customers.
The good news is that branding the video can help you avoid that. Viewers will easily recognize who produced the content, leading to greater awareness.
So, how do you brand videos? Start by adding
The brand's logo to the video.
A prominent watermark of the brand's name.
Brand colors that are easy to recognize.
Just like this video from MarkUp.io, which added its logo at the bottom-right corner.
Now, that's how you incorporate branding into your video.
But we're not done yet; we still have more arrows in our quiver of wisdom to help you bring those views in.
Up next is selecting thumbnails.
#5: Carefully select the video thumbnail
You're scrolling through YouTube videos, searching for a voiceover tutorial. All the videos you've seen seem to have the same title, so choosing one is a bit challenging.
Just as you were about to click one at random, a video with a unique cover image caught your attention, and—without thinking twice—you decided that was the one you wanted to see.
If you upload videos to social media, viewers tend to see the thumbnails first.
According to YouTube, 90% of the best-performing online videos feature a custom thumbnail.
So, you might wanna consider selecting or, better yet, creating one for your videos.
Besides giving viewers a preview of the video, thumbnails can also:
Increase click-through rate. Video graphics make people curious and encourage them to click on more.
Help with SEO. As more people click on the video, YouTube will recommend it to others searching related keywords. This will help it move up YouTube's search ranking.
Provide a visual summary of the content. Viewers can then decide if they want to view the full video or not.
Show that your brand is committed to producing high-quality videos.
To create effective thumbnails, you need to
Understand your audience.
Overlay images with descriptive text and branding.
Ensure your design is simple and engaging.
Make the thumbnail compatible across different devices.
Of course, the design for a thumbnail isn't something one can decide on their own; it's important to ensure stakeholders are involved in that process.
To make this process easy, use a tool like MarkUp.io.
You just need to upload the design to the collaboration platform and invite stakeholders and teammates to comment via email or live URL.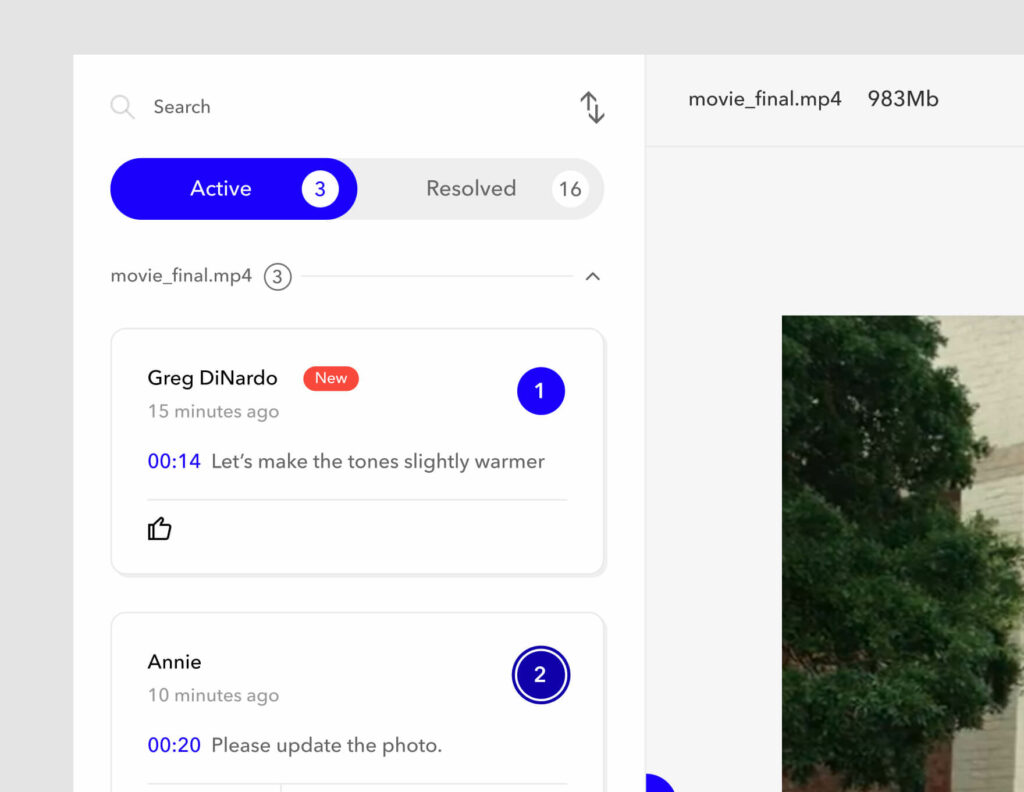 Then, they can review, leave contextual feedback, and approve the design.
But even beyond getting approval on the thumbnail design, your video production team can use MarkUp.io at any stage of the video creation process where feedback is needed.
While thumbnails make your viewers curious and draw them in, adding captions will give them an engaging viewing experience.
#6: Include captions
Captions are texts that represent the audio content in a video. They display conversations, sound effects, and other important information on the screen.
Here's why you need to include them in your video:
Better user experience: Captions make it easy for viewers to follow the video and understand what's being said, especially in distracting environments. 80% of people in a Verizon study say they like to watch an entire video with captions.
Accessibility: When you include captions in your video, everyone—including people with disabilities and those learning English as a second language—can enjoy the video.
Improve SEO: Adding captions can provide text for search engines to index. That means your video will have a better chance of being discovered when people search for related keywords.
You can include captions in your video in three ways.
Manually create captions. This involves you transcribing the audio content of your video and syncing the captions using timecodes.
Use captioning tools. Captioning software leverages speech recognition technology to transcribe the video's audio and generate captions.
Outsource to a captioning service: Some companies provide high-quality captions that include formatting and styling the text.
A good video can do more than entertain or capture your viewer's attention. It should also get them to act.
You know, like visiting your website or subscribing to your channel.
We'll talk about that in the next section.
#7: Don't forget a call-to-action (CTA)
Imagine this: you walk into a mall to buy a smart freezer. While looking around, an attendant walks up to help you figure out what you need.
They ask what features you're looking for in the freezer and walk you to where electronic appliances will likely be. Suddenly, someone calls them, and poof! They disappear.
Your thoughts are jumbled. Do I wait for them? Am I in the right place? That was rude! Should I keep searching? Where do I start?
Even if their approach was super-friendly, the fact that it didn't give you a clear sense of direction left you feeling confused. Some people might even leave the mall altogether and post negative testimonials online.
In the same way, not adding a clear call-to-action (CTA) to your video can make viewers lose interest in your brand and move on.
CTAs can guide users and point them to specific actions.
What's the point of working hard to gain viewers' attention if you don't tell them what to do after they've watched the video?
More specifically, adding CTAs can help:
Increase engagement and conversions. Viewers are prompted to engage with your brand.
Track the effectiveness of the project. It'll help provide information on metrics such as the number of visitors who took action, bounce rate, and more.
Build awareness. As more people engage with the brand, the platform where the video is uploaded will recommend it to others.
To help you have a seamless pre-production and post-production process, here are some types of CTAs to use in your video:
Another practice that can help you get more views is repurposing your videos.
#8: Leave room for repurposing video content
You know how you can take wooden crates and use them as shelves at home?
That's sorta how video repurposing works. It's the process of taking a video made for one platform (like YouTube) and adapting it so that people can enjoy watching it on another, like Facebook.
Repurposed video content will save you a lot of money that would otherwise have been spent creating new content from scratch for other platforms.
It can also help you:
Improve SEO.
Increase engagement.
Generate more leads.
Save time.
Reinforce brand message.
But if you use the video across multiple platforms, you must prepare to ensure the B-roll and final video support repurposing.
You can be prepared by:
Planning ahead.
Shooting your video in a neutral environment.
Choosing a flexible video format, e.g., horizontal or square.
Keeping the video short and straight to the point.
Adding brand elements to the video.
Choosing the right video type, e.g., animation or user-generated video.
Using subtitles or captions.
So, guys, we should call it a wrap, but we have a bonus tip for you in the next section.
Bonus video production best practice: track the video's performance 
If you've started implementing all the video production best practices listed in this guide, you'll probably feel like disappearing to the Caribbean after a job well done.  
Before you do, you wanna be sure that the video is performing as expected.
You can do that by tracking the video's performance, using platforms such as Brightcove, HubSpot Video, Wistia, etc., to help provide detailed insight into its performance.
They'll help you track how many people have:
Watched the video.
Clicked the CTA.
Shared the video.
Visited your profile.
Including information like how many seconds or minutes were watched and whether the video was shared on social media.
You can then analyze the information, study your audience's preferences, and find out what videos they like watching.
***
That's a wrap! 🥳
Hopefully, you've learned a lot from this guide. There's only one thing left to do: streamline the production process.
Streamline video production
As you know, there are different processes involved in video production. You alone can't just record a video, edit it, and upload it without contribution or approval from stakeholders.
What you need is a streamlined approach to your workflow.
It enables everyone involved to provide feedback on the work quickly and easily. And that's the void that MarkUp.io fills so perfectly.
Why not try MarkUp.io and see just how much of a difference it can make?