You've just submitted the first draft of the video project you're working on. The only thing left is for the client to sign off on it.
Or so you think.
An email notification dings. It's your client giving their two cents. Then, you see this part:
"…you know that sound that fades in during the background transition? And that place where the video is a little blurry?"
There are several transitions and blurry video sections, so you're confused about which one they're talking about.
What if we told you there was a less confusing way to request and receive video feedback?
It's called a video review process!
Let's talk about what that is, how it can help you, and what tools to use to make your life easier.
Table of contents

Why a video review strategy matters for video production success
A lot goes into video creation—from the pre-planning down to the post-production stage. And it can be expensive. As a matter of fact, in our post on video production, we estimated that it costs between $1,000 and $100,000 to create a video.
To avoid overspending, it's important to have clear terms outlined before, during, or after production.
That's where a video review strategy comes into play.
It'll help identify problems the client might have so they're dealt with on time.
You can think of a video review strategy as a fail-safe system that comes into play if something goes wrong or even to prevent it from happening.
Having one will help you get
A clear overview of the project: You'll understand what matters most to the client and how to approach it without compromising quality.
A comprehensive video review strategy gets every stakeholder involved, so you'll have fresh pairs of eyes providing different perspectives on the video.
All of these ensure you have a professional end product.
Consolidated feedback: A review system ensures video production teams don't have to deal with conflicting feedback from multiple stakeholders.
Instead, one person, preferably the project manager, collates and filters every piece of feedback, so the production team has a streamlined workflow.
The secret to a good video? Reviews and feedback. Let's discuss the different stages of video reviewing in the next section.

Video review process: 5 stages of video reviewing
You know how video production is split into different phases? Each of those phases typically includes its own review process.
There are various stages during production where you need to pause and request revisions before you proceed.
Let's look at them in detail.
Stage #1: Scripting
The video review process begins here.
That's because scripts define the outcome of the end product.
The script is the blueprint for a video, so you want to align what's written with your client's vision.
You also need to ensure that the style suits the client's brand and can grab their audience's attention instantly.
Can't I just use the creative brief as a guide instead?
Well, you can, but it's always better to have the client review the script since they're probably more familiar with their audience than you are.
Stage #2: Audio editing
Audio is another vital aspect of video production, so it's important you get clients and stakeholders involved at this stage.
According to Audacy's State of Audio report, audio has been known to trigger emotions, trust, and connection.
So you want to find out from reviewers if there's a sound used in the video that can be replaced by silence. Or if the audio evokes the emotions your clients want their audience to feel.
This kind of feedback is better experienced than described.
Stage #3: Rough cut
You can also get stakeholders involved after the first version of the video is ready. Here you want them to check the scenes for continuity and ensure what you've done so far is in sync with the initial storyline.
Upon reviewing it, they can let you know if clips need to be trimmed or cut entirely or if the video communicates the right idea to the audience.
Involving them at this stage and when new versions are created is another opportunity to get their thoughts on the music, sound, rhythm, and editing.
Stage #4: Final cut and editing
Even after you've implemented all of the client's feedback on the rough cut, you still need to ask them to review it again.
It's better to spend some more time video editing and making iterations than to begin the process again.
You might have overlooked something when implementing their feedback, or they forgot to make important suggestions. So, get stakeholders involved before you publish the video.
Stage #5: Launching
When you're ready to hit the launch button, carry everyone along to dot the i's and cross the t's.
It's tempting just to go ahead and publish after the possibly lengthy back and forth on review. But it's always great to be on the safe side.
As stated earlier, fresh pairs of eyes can provide new insights you might otherwise have overlooked.
***
It's important to keep in mind that implementing client feedback is an ongoing process. You should request reviews throughout the entire video production process.
At the same time, there are some best practices to remember.
Let's take a look at four of them next.
4 video review best practices
How you respond to reviews from clients and stakeholders matters a lot in video production.
Especially when you have to deal with multiple reviewers. 😱
Here are some pointers to help you stay on track:
1. Watch closely and focus on essential elements
To make sure you don't get overwhelmed by a flood of revisions when implementing a client's feedback, focus on these key elements:
Graphics: Does the overall design or video outlook reflect the brand's feel?
Messaging: Is the script successfully delivering the intended message to the client's audience?
Mood: What kind of feelings do the video and audio elements evoke?
Shots: Do the visuals you've shot match what's been said or the messaging you're trying to get across?
Branding: Is the video project aligned with the client's branding guidelines?
Pay attention to these elements during the different rounds of video reviews, so you're clear on which feedback to prioritize.
2. Consolidate feedback for editors
This applies to team leads or project managers who are intermediaries between clients and video editors.
When you receive feedback from stakeholders, it's easy to forward everything as it comes and let the editors figure it out.
They are then left trying to understand which comments should be prioritized.
Here's what you can do for them instead:
Go through the reviews
Categorize them in a sequential order
Identify contradictory feedback and reach out to stakeholders to figure out a way forward
Eliminate vague comments
This way, you can present consolidated feedback to editors with clear instructions they can act on.
3. Have everyone on board from the start
After getting the creative brief from clients, video production teams must wait until the rough cut is ready before including stakeholders, right?
Wrong!
While that might seem like the logical thing to do, it's reasonable to involve them in the production process early on.
This way, you'll avoid starting all over again if the stakeholders have different ideas for the project.
It'll also help you stick to the budget if everyone involved shares their ideas before, during, and after the production.
4. Set a realistic timeline and schedule
When working on the video project or reviews, don't underestimate how long it'll take to complete it. Set realistic due dates and inform clients about them.
Preferably, you want to set a longer timeline to have enough time to implement the feedback. This way, you'll even get to deliver before the deadline.
To have a successful review process, you'll need video review tools.
They'll help you request, document, and streamline the feedback you get from stakeholders.
Essentially, all the good stuff is in a single tool, which we'll unpack in the next section.
Best video review tools
Having software to help review videos—be they product-centered tutorials or funny cat videos—will no doubt make life easy for you.
But with several of them on the market, how do you find the right one?
We've collected the best review tools to spare you the stress.
And the first on our list is the one and only MarkUp.io. 🥳
Tool #1: MarkUp.io
MarkUp.io is a cloud-based visual collaboration tool that allows users to request revisions on their video content in an easy way.
With MarkUp.io, video production teams can say goodbye to back-and-forth emails with stakeholders and hunting for timestamps to get reviews.
Users just need to upload their video file on the platform and share it with their team members, clients, or stakeholders to start annotating.
This way, production teams can get frame-accurate contextual feedback across the different stages of video reviewing.
MarkUp.io features
MarkUp.io helps users improve their review process using features such as:
Frame-accurate comments on videos
Annotations with click-and-comment functionality
Loom integration for creating video feedback
Creating comment threads
File attachments
Tagging team members with @mentions
MarkUp.io pricing
If you run a solo video production business and only create short videos, you can use MarkUp.io for free. With the Free plan, you can access 10GB storage, one Workspace, and five MarkUps. 
We recommend the Pro plan, as it offers more storage (up to 500GB), unlimited Video MarkUps, folders, and more.
Large-scale organizations that require more storage and Workspaces can opt for the Enterprise plan.
Tool #2: Frame.io
Frame.io is video collaboration review software for creative teams.
The review tool enables users to share digital media and keep track of the feedback they receive.
Anyone from video editors, podcast producers, filmmakers, cinematographers, marketing managers, and social media content creators can use Frame.io to request and provide feedback on video files.
Features
Frame.io's features include
Video management
Unlimited file sharing
Third-party integrations
Commenting
SSL security
Pricing
Frame.io's pricing plan ranges between $15 and $25 per user, per month, depending on how much storage you want.
There's also a custom-priced Enterprise plan available on demand for organizations.
Tool #3: Motion Array
Motion Array is creative-asset software that provides high-quality templates for content creators.
The software comes with a collaboration feature that allows users to showcase the progress of their video projects with stakeholders and receive feedback.
Features
Motion Array's features include:
Version controlling
Video templates and presets
Stock audio and image library
Portfolio builder
File sharing
Pricing
Motion Array's pricing plans range between $20.83 and $37.50 per month, depending on the number of users on the platform.
Tool #4: TechSmith's Video Review
TechSmith is a cloud-based screen-recording software that enables users to create online videos and images.
But TechSmith also has a video review tool that helps editors and production teams create a streamlined review process.
Features
TechSmith's key features include
Versioning
Video sharing
Update video player
Grouping reviewers
Pricing
TechSmith's video review tool costs $179.99 annually and comes with a 30-day free trial period.
Tool #5: Filestage
Filestage is reviewing collaboration software for marketing teams and media agencies.
Filestage allows users to create a straightforward review process for their video productions, down to timestamps.
Features
Filestage's features include:
Activity tracking
Collaboration in comments
Approval process control
Due date and progress tracking
Media planning
Password protection
Pricing
Filestages's pricing starts at $19 per seat per month for their Standard plan, and it comes with a 7-day free trial.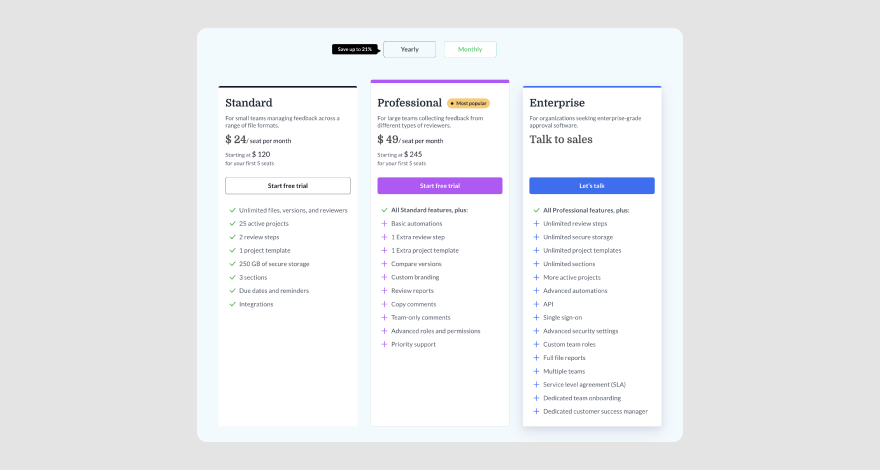 There's a custom-priced Enterprise plan for large-scale companies.
***
That's about it!
We believe you're now armed with the knowledge and tools needed for a streamlined video-review process.
But that shouldn't be where we part ways, and if you stick around, we've got an additional sum-sum for you.
Now over to you
We know how frustrating it can be to get feedback and approvals from clients, especially during video production.
Well, you don't have to go through that stressful process anymore.
We're offering you a free trial, so you can see how simple it can be to request reviews faster than you've ever done.