Imagine waking up in a world where you didn't have to worry about email feedback or your design files being too big to attach to an email or send over Slack.
In this new world, you can simply ask colleagues for their opinion by sharing a link. The feedback is easy to understand. What's more, you can exchange design files as is, work in the same design file as someone halfway around the world, and more.
The key to this magical alternate universe?
Design collaboration tools. We'll tell you all about them in a jiffy.
Table of contents
What's a design collaboration tool?
Let's begin with a moment of silence for all the hours you've likely lost trying to add visual context to feedback. 🫡
It's next to impossible to give accurate feedback on visual media when you can't comment directly on it.
With design collaboration tools, those headaches will be a thing of the past. These software solutions are developed to help design teams collaboratively create, share, and review web and graphic design.
Design collaboration tools streamline creative professionals' workflows and involve multiple team members in different project stages — from brainstorming design ideas to publishing the final deliverable.
Why use design collaboration tools?
These design tools help designers:
Stay in sync with their peers
Ensure visual consistency
Simplify reviews
Get on the same page as clients
Boost productivity
Collaborate with team members more efficiently
You can reap these benefits with the help of three types of design tools, which we get into below.
3 types of design collaboration tools
Whether you're in the office or working remotely, design collaboration tools are for everybody. Let's get deeper into the top three most common tool types.
Type #1: Design collaboration tools for collecting feedback
Imagine you sent a deliverable to your team for review by email. Soon, you're receiving their input via a disparate chain of emails, direct messages, and the like, which is almost impossible to understand and keep organized.
If you had used a design collaboration tool for feedback, you would have been able to collect contextual comments from clients and other stakeholders, meaning all feedback would have taken place on the asset itself.
Generally, these tool types enable designers to share deliverables via a link. They can then collect clients' input through comments placed directly on the asset, pinning comments to a video, annotating a website, or reviewing a supported file type.
To sum it all up, design feedback tools take the guesswork out of the review and approval process by making feedback easier to provide for clients and easier to implement for designers. 🫶
Type #2: Design collaboration tools for co-creation
As the name suggests, design collaboration tools for co-creation enable users to participate equally in the design process within a shared digital workspace.
These tools encourage teamwork and improve remote collaboration while having the potential to streamline production and help users deliver projects faster.
Type #3: Design collaboration tools for productivity
When referring to design collaboration tools for productivity, we mean task and project management platforms that can accommodate the organizational needs of design teams.
Think tools that enable users to upload files, share links, add comments, and other deliverable-friendly actions.
Let's start from the top with our list of feedback tools. 😁
Tool #1: MarkUp.io
MarkUp.io is a cloud-based, visual feedback and collaboration tool for creative professionals.
The platform offers users a centralized workspace where feedback can be easily collected and organized in one place rather than scattered between millions of different channels. 😉
MarkUp.io makes the review and approval process seamless. It enables users to drag and drop designs onto their workspace and create digital copies (called MarkUps) that can be effortlessly shared with stakeholders via link or email invites.
The invitees can click ANYWHERE on the shared MarkUp to add pixel-perfect feedback, which cuts back on the back-and-forth clarifications needed for reviews that happen over email or Slack.
Useful MarkUp.io features
MarkUp.io's design-relevant features include:
Contextual feedback and mark-up tools for a wide range of file formats (including live websites, images, design files, and even videos)
Comment threads and @mentions
Version control
Chrome extension for creating website markups right from your browser
Folders for organizing your MarkUps efficiently
Pricing
MarkUp.io's pricing starts at $49 per month for the Pro plan, which gets you the best value for its cost. It provides one Workspace, supports unlimited MarkUps and users, has 500GB of storage, and offers premiere features like Folders and custom link sharing.
A custom-priced Enterprise plan is available upon request. Finally, for users with small monthly output, MarkUp.io offers a free version that includes the platform's core functionalities.
Tool #2: Filestage
With Filestage, users can create custom workflows, keep track of and compare design versions, and ultimately streamline the feedback process.
Useful features
The platform's main functionality revolves around requesting and providing feedback on deliverables. Its main features include:
Click and comment to add feedback on design projects
File-sharing
Comment threads
Turning comments into to-do lists with items you can tick off as they're completed
Pricing
Filestage's pricing starts at $95 per month for the first five users. The cost for additional users starts at $19 per user per month.
Tool #3: ProofHub
ProofHub is a project management tool with collaboration and design feedback features.
The platform helps product teams optimize task management, communication, and collaboration to establish efficient workflows and deliver projects on time.
ProofHub's design collaboration includes:
File sharing
Design feedback with comments and @mentions
Notifications
Pricing
ProofHub is offered across two pricing plans that vary between $45 and $89 per month.
Tool #4: UXPin
UXPin is a platform built for creating designs, prototypes, and design systems.
Design teams working remotely can use UXPin to share designs they're working on and request feedback from colleagues and stakeholders.
This software streamlines collaboration with remote teams and ensures everyone is on the same page regarding the project.
Useful features
UXPin is loaded with several features, including:
@mentions to tag team members
User management to control user roles
Team libraries for saving reusable components
Real-time collaboration so teams can work on a project simultaneously
Cloud-based storage to ensure changes made to a project are saved automatically
Pricing
There are five pricing plans on UXPin to choose from.
Free version
Advanced plan at $29 per editor/mo
Professional plan at $69 per editor/mo
Company plan at $119 per editor/mo
Enterprise plan available on demand
Tool #5: zipBoard
This tool is geared toward both designers and developers. zipBoard is a bug-tracking and feedback platform.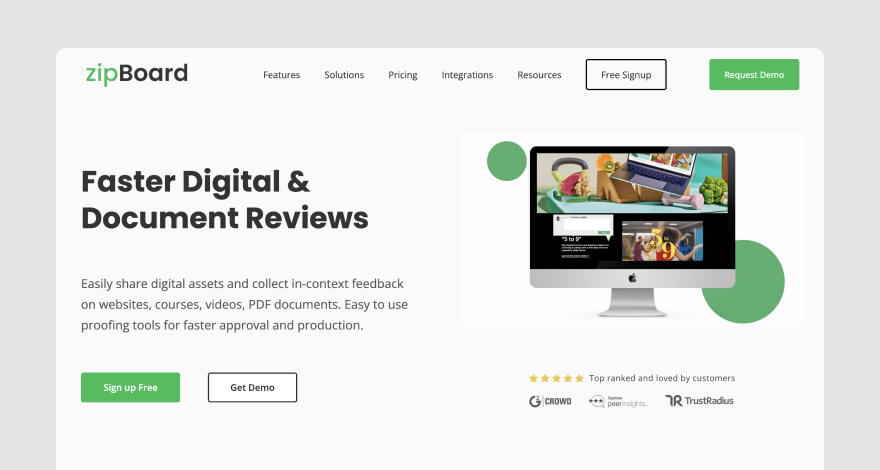 It enables web design and web development teams to collaborate better through its task management and visual proofing features. Plus, the platform makes it easier for QA engineers to report and document bugs they encounter during testing.
Useful features
zipBoard's features include:
Bug tracking and issue tracking
Annotation
Mark-up tools
Visual review and feedback
Pricing
zipBoard's pricing is available only on demand.
Tool #6: ruttl
ruttl is a digital whiteboard visual that teams can use to share projects and collect contextual feedback on deliverables.
ruttl enables users to collaborate on live websites, web apps, PDF files, and images. This makes it an ideal tool for remote-first teams.
Useful features
ruttl supports features such as:
Integrations with tools like Zapier and Asana
Contextual comments
Edit mode that allows users to replace images, directly edit copy, and more
Pricing
ruttl's pricing ranges between $13 and $33 per month. The tool is also offered for free as a basic version suitable for personal use.
***
That was the first section of our list, but don't go anywhere! Now, we're moving on from feedback to co-creation tools. Visme is first on the list.
Tool #7: Visme
Visme is an online design tool users can leverage to create, share, and edit professional-looking presentations, infographics, social media content, etc.
Visme offers designers an easy way to create visual content through templates and collaboration in real-time to provide feedback, brainstorm, or co-create.
Useful features
The most relevant design collaboration features supported by Visme include:
Digital workspaces to which you can invite team members
Tools for ensuring branding consistency for fonts, colors, logos, etc.
Real-time feedback and collaborative design editing
Automatic notifications that are triggered as comments are added to designs
Pricing
Visme's pricing plans range from $12.25 to $24.75 per month, with the Team plan only available upon request.
Visme also allows users to create free accounts with limited functionality.
Tool #8: Mockplus Cloud
Mockplus Cloud is a design collaboration and handoff tool that designers and developers can use to streamline their workflow.
With Mockplus Cloud, users can create prototypes, screen flows, web page layouts, and everything in between.
Useful features
In addition to helping with developer handoff, Mockplus Cloud enables users to:
Review design work and pin feedback contextually
Track iterations of designs
Share specs and code snippets with developers via link
Pricing
Mockplus Cloud's pricing starts at $4.95 per user per month. The platform features a free version with limited features, suitable for teams of under 10 users.
Tool #9: Figma
Figma is a collaborative platform for user interface (UI) design.
It allows designers and developers to create, edit, and comment on digital deliverables together.
Teams can use Figma to create user flows, wireframes, and mock-ups for websites and mobile apps together, collaborating in real time.
Useful features
Figma offers features like:
Design tools (e.g., pen tool, arc designs, typography)
Design translated into web-ready code
Plugins and widgets for workflow optimization and automation
Link sharing for unlimited users
Pricing
Figma's pricing ranges from $12 to $45 per editor, per month. Additionally, Figma is available as a free version for a limited number of projects and files.
Tool #10: InVision
InVision is an online whiteboard that helps boost productivity and creativity by enabling teams to align faster and collaborate better within a real-time workspace.
InVision is mainly used for prototyping, allowing designers to create interactive mock-ups using templates.
The platform also enables professionals to share design mock-ups with stakeholders via link and make the review and approval process faster and easier.
Useful features
InVision includes:
Design prototyping
Project management
Real-time whiteboarding and design meetings
User testing
Feedback and contextual commenting
Pricing
InVision's pricing starts at $4 per user per month. The Enterprise plan is custom-priced and available upon request. A free version is also available.
Tool #11: Adobe XD
Adobe XD is a vector-based experience design platform developed for UI and user experience (UX) design.
The platform enables teams to design anything from websites to smartwatch applications collaboratively.
Adobe XD is mainly used for whiteboarding, wireframing, prototyping, animation and interaction design, and developer handoff.
Useful features
Adobe XD's features include:
Prototyping tools
Customizable share links that share only elements you choose (e.g., comments, variables, specs)
Comments and @mentions
Pricing
Adobe XD can be purchased as a standalone app for $9.99 per month or as part of Adobe's creative stack that includes 20 other apps (e.g., Photoshop, Illustrator, After Effects, etc.) for $54.99 per month.
We're almost to the finish line! Last but not least, let's get into productivity and task-management platforms.
Tool #12: Asana
One of MarkUp.io's most frequently-requested integrations, Asana is task-management software that helps teams create efficient digital workspaces with custom workflows, checklists, due dates, and calendars.
The platform helps teams break down massive projects into manageable tasks. Users can create and assign tasks to team members, add comments, set deadlines, and add files and links to individual projects.
These capabilities make creative collaboration easier and more efficient.
Useful features
Asana's features include:
Gantt charts
Kanban boards
Shared calendar
Reporting and analytics
Private and group messaging
Pricing
The basic version of Asana is free. The platform's pricing plans range from $10.99 to $24.99 per user per month.
Tool #13: Trello
Another requested integration for MarkUp.io, Trello is a visual project-management tool based on the Kanban board model.
With Trello, teams can manage and organize tasks collaboratively in a centralized workspace.
Useful features
Trello supports features like:
Boards that document key steps in a team's workflow
Labels for tasks
Due dates
Task assignment
Pricing
Trello is offered both as a free and a paid version with pricing ranging from $5 to $17.50 per user per month.
Our list has ended, but our friendship doesn't have to. 🥹
Over to you
Now that you have a comprehensive overview of all the design collaboration software types available in today's market, you might feel overwhelmed.
It's not easy to find three tools in one shot without getting lost in the wormholes of product comparison sites and buyer guides.
We'll take some of the pressure off with a no-strings-attached test drive with MarkUp.io.
Make feedback something to look forward to with your MarkUp.io 14-day free trial!