Editor's note: This article was originally published on Aug. 6, 2020. The information presented was collected from publicly available sources as of February 6, 2023.
We believe the best work happens when you're in a flow state. We're talking about deep work here—the undistracted, uninterrupted, focused work that results in productivity and creates meaningful outcomes.
But what kinds of tools help people reach this elusive flow state? Most of the time, there isn't just one app or piece of software that can solve the problem. Nine times out of ten, you need a whole set of tools to finish the job.
As more people have joined MarkUp.io, we've seen a variety of collaboration tools surface in our users' content creation tech stack. From creating web content to project management, our users (and the MarkUp.io team!) count on a diverse toolset to get things done.
As MarkUp.io continues to operate as a central hub between these various products, we wanted to give a nod to some of our users' most popular choices. Without further ado, here are the most popular collaboration tools MarkUp.io users swear by!
Creating web content
Webflow
Every business needs a website, but not every person has the coding skills or time to build one. That's why MarkUp.io users looking for a simple way to create attractive websites turn to Webflow. This easy-to-use tool enables teams to collaborate from anywhere in the world. The result? The ability to build better, more responsive sites faster with live previews and comments on individual elements in the browser. That's not all Webflow can do, though. The platform also offers collaboration tools like Editor, a website management tool, and security and hosting products to help you scale your business.

Come to think of it, MarkUp.io and Webflow were kinda made for each other, don't you think? Check out this tutorial to see how Webflow users are using MarkUp.io.
WordPress
While this might be the most popular destination in the world for creating websites, there have been a lot of companies building front-end platforms on top of WordPress. Two such platforms that are growing in popularity, especially among MarkUp.io users, are Elementor and Divi. The former recently acquired Jerusalem-based startup Strattic and raised $50 million in capital in 2021. I also had the chance to speak with their Chief Evangelist, Ben Pines, the other week, discussing their company's rise as a front-end framework to WordPress. Just as we've seen Divi and Elementor take flight with MarkUp.io users, we expect to see more sites coming into MarkUp.io from the world of WordPress in the months ahead.
Ceros
As one of the top platforms used in MarkUp.io (and the founding company behind it), Ceros is an experiential content creation platform that empowers marketers and designers to create engaging, interactive, and immersive content experiences. With more than 900 brands worldwide using its content creation studio, Ceros allows users to build some of the most remarkable content on the web without having to write a single line of code. Teams from the likes of Getty Images, PTC, and Stream Realty Partners consistently push Ceros experiences into MarkUp.io for collaboration.
Squarespace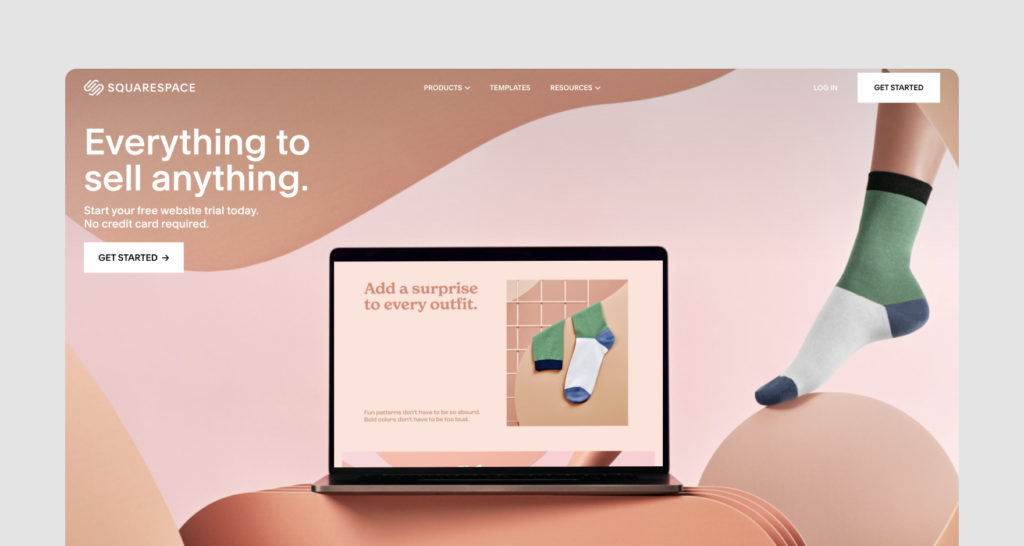 Having built a reputation over the years as a website builder for small and medium-sized businesses, Squarespace has also blossomed amongst agencies and freelance web designers. In fact, these groups are powering a lot of Squarespace usage inside of MarkUp.io week-over-week. Squarespace enables you create a website with beautifully designed templates or from scratch with drag and drop objects. We're seeing a lot of agencies grow their businesses by creating and maintaining Squarespace sites for their clients. Once these sites are ready for review, agencies are then pushing them into MarkUp.io for quick client collaboration.
Project management
Asana
It seems like one of the most popular questions MarkUp.io users ask is, "When are you going to build an Asana integration?" We hear you. With its intuitive interface and organizational capabilities, Asana helps MarkUp.io users (typically marketing agencies) keep workflows transparent and meet deadlines more efficiently. Since going public in 2020, the company recently reported a 67% growth in revenue. The adoption of collaboration tools is definitely on the rise as remote working soars, and it'll be exciting to see how Asana will lead this charge.
ClickUp
Unless you're deep in the project management space, you might not have otherwise heard of ClickUp. The company has achieved what looks like meteoric success in the last few years and is another popular project management tool among MarkUp.io users. It's also quickly becoming another requested PM integration. Regardless, if you haven't heard of them, chances are you soon will – they raised $400 million in Series C Funding in 2021 and don't appear to be slowing down anytime soon.
Monday.com
Known equally for its creative ads and its impressive software, we often see Monday.com as a top PM tool of choice for MarkUp.io users. The software company recently released its 2022 fiscal year results, announcing that revenue generated in 2022 was $519 million, growing 68% year over year. Like ClickUp and Asana, it's also at the top of our list for requested integrations with MarkUp.io.
Trello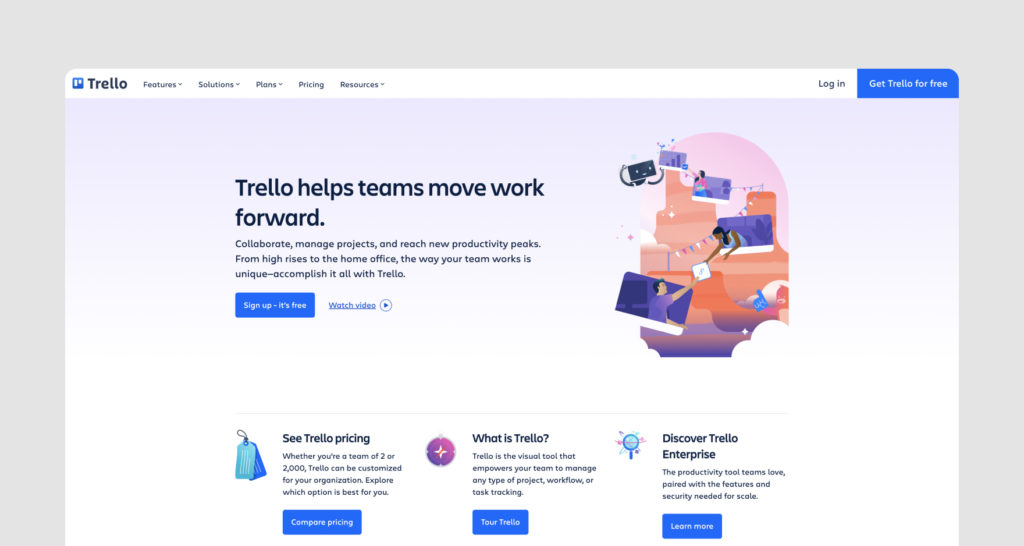 As a personal fan favorite and user of Trello, I love this PM software just as much as MarkUp.io users. Trello allows you to create boards for different tasks, and their easy drag-and-drop UX makes it effortless to transition from task to task. It's quite prevalent among MarkUp.io users, and like the other PM tools mentioned above, we have considered adding an integration that will auto-create tasks inside of your Trello board for specific MarkUp.io projects.
Notion
When the MarkUp.io team needs to get organized, we turn to Notion. Truly, this is one of the most customizable collaboration tools. You can create task lists, product roadmaps, design repositories – even maintain a shared knowledge base that is constantly updated and serves as an onboarding doc for new employees. Notion offers dozens of templates to help you set up things like content calendars and custom workflows. The ultimate value is its ability to enable transparency by allowing you to connect your teams, products, and documents. How's that for a silo-buster?
Conferencing Tools
Zoom
After the pandemic hit, Zoom exploded in popularity, keeping people connected both with business associates and loved ones. MarkUp.io is no exception – whenever we need to have a meeting, we hop on Zoom! The app's success is largely credited to its ease of use and low latency. With pricing packages that can be customized to creative freelancers and larger enterprises, it's easy to see why Zoom remains most users' #1 choice for video conferencing.
Loom
When you can't Zoom, Loom. As an asynchronous organization, this rule is the gospel truth for MarkUp.io. That's why Loom was one of the first MarkUp.io integrations. This video messaging tool is great for clarifying something when an email or Slack message would be more time-consuming. Instead, you can use Loom to simultaneously record with your desktop, microphone, and camera. Your video is immediately shareable and can replace the disruptive face-to-face meeting that would have needed to happen without Loom.
Internal Communications
Slack
At MarkUp.io we're a Slack shop. We even have our own community Slack channel for engaging with users and eliciting feedback. But it's not just us. A lot of MarkUp.io users communicate internally via Slack. They establish MarkUp.io-specific channels; they get project share links and send them to team members in those channels; and they discuss MarkUp.io threads there, too. It's one of the top hubs for teams communicating internally around MarkUp.io projects.
Microsoft Teams
Teams has become the de facto communications tool for organizations already leveraging Microsoft products like Office 365. Like Slack, we're seeing a lot of MarkUp.io users sending project share links through Teams. Organizations that leverage Microsoft products typically focus on secure messaging (i.e. financial institutions, consulting services, etc.). We've seen a strong amount of traffic coming from shared links inside of Microsoft Teams, lending itself to not only the ease of use but the reliability and security of MarkUp.io projects. Like Slack, we expect this to be one of the first communications integrations we explore.
That's a wrap!
---
With that, we've provided a snapshot of some of the best collaboration tools MarkUp.io users rely on to get the job done. We hope this overview provides some inspiration for your web content creation and project management needs.
We may have reached the end of today's list of collaborative tools, but why stop there? MarkUp.io supports all types of users—from content creators to editors to digital marketers—and we are constantly working on improving the platform.