Video content is so hot right now.
Most businesses leverage it to engage with their audiences.
Chances are that you probably are too.
If you're a video marketing enthusiast, you probably know how frustrating it can be to get feedback on your videos.
The large zipped attachments squeezed into an email, followed by confusing back and forths with video editors…
It's just a tedious process!
We're here to free you from the dread of writing video editing requests in Slack, email, or other communication tools.
Our list of seven collaborative video editing software programs will help you find the best way to get your point across faster and more efficiently.
If you're not part of the video marketing band yet, here's what you've missed. 😏
Table of contents
Why you need video editing software
If you haven't already jumped on the video content train because you think it's just a marketing fad, it's time to reconsider.
Otherwise, you risk being left behind by the competition as video marketing gains more and more traction among marketers.
A video marketing report by Wyzowl discovered that 86% of today's businesses integrate video content into their marketing strategy.
Further, 92% of the surveyed marketers go as far as considering video an "important part" of their marketing game.
The same study looked into the benefits garnered by marketers using video content as part of their strategy and revealed that video can:
Increase website traffic and dwell time (the time users spend on a web page before returning to the search results page)
Help customers understand the product better and increase brand awareness
Generate more leads and boost sales
It's no secret that an audience can digest information more easily when it's presented visually. Plus, videos help convey complex thoughts and lengthy explanations in a more entertaining way.
Are you in yet? If you want to capitalize on all the pros of video marketing, you must find suitable collaborative video editing software for your business.
You'll need this type of solution whether you decide to keep content creation in-house or outsource it to a third-party agency or freelancers.
Whatever you decide, you must find a convenient way to provide feedback on your collaborator's video editing efforts.
To speed up this research-heavy process, we've scouted the market and chosen seven such collaboration tools.
Let's explore how each one can fit your creative workflow, how it can help, what it costs, and the most relevant features it offers.
MarkUp.io is first on our list. 😉
1. MarkUp.io
MarkUp.io is a versatile visual feedback tool that makes it easy for creative teams to collaborate on video projects, design files, and other deliverables.
Which part of the video editing process can it help me with?
Let's make one thing clear – MarkUp.io, together with a few other tools on our list, is not a video editing software solution.
It's a collaboration tool that enables marketers and other creative professionals to annotate videos and streamline the review and approval process of video projects.
Features
MarkUp.io allows creative teams to collaborate on video content in real time.
It enables users to add frame-accurate visual feedback to video files, making the review cycles of any project shorter and less frustrating.
Additionally, the platform allows users to share media, collect feedback, manage reviews, and deliver finished work faster, thus allowing for a more efficient video production workflow.
Moreover, MarkUp.io integrates with Loom, which allows users to record short video clips with further feedback clarifications without leaving the platform. This integration helps add even more clarity and context to feedback.
Pricing
To get the most out of MarkUp.io, we recommend the Pro plan. Pro costs $25 per month and includes:
Unlimited MarkUps and users
500GB of cloud storage
Folders
A manage-shared-links option
One Pro Workspace
If you're not running a big operation and don't need more than 5 MarkUps per month, you can go for the Free plan. It covers the platform's core functionality and is suitable for solopreneurs, freelancers, and startups.
On the other hand, if you need more than what Pro offers, reach out to us to discuss your custom-priced Enterprise plan.
2. Filestage
Filestage is an online proofing platform that helps teams share, review, and approve files and content via a unified portal.
Which part of the video editing process can it help me with?
Like MarkUp.io, Filestage helps video production teams streamline the approval process of their projects.
Features
Video-relevant features offered by Filestage include:
File sharing via links
Video feedback with automated timecode
Automated review workflows
Comment threads with @mentions
Pricing
The pricing for Filestage ranges from $19 to $39 per seat per month.
Each plan requires a minimum of five seats, which makes the Standard plan $95 and the Professional plan $195 per month.
For the Enterprise plan, pricing is available upon request.
3. Frame.io
Frame.io is online video collaboration software with video review tools that help teams track and manage video feedback from internal and client teams.
Which part of the video editing process can it help me with?
Frame.io helps team members minimize the feedback loop through time-stamped video annotations and other video review capabilities.
Features
Relevant Frame.io features include:
Video markup tools (including drawing on frames)
Time-stamped and threaded comments
@Mentions, emojis, and hashtags
Integrations with Adobe Premiere Pro, After Effects, Apple Final Cut Pro, and other similar video editing tools
Pricing
Frame.io's pricing structure includes two paid plans and a free version.
The free version comes with 2 GB of storage and is suitable for a maximum of two users.
The paid plans range from $15 to $25 per user per month.
A custom-priced Enterprise plan is available upon request.
4. Vimeo
Vimeo is popular for its video hosting platform. What you may not know about Vimeo is that it can help teams create and edit private video projects without leaving the platform.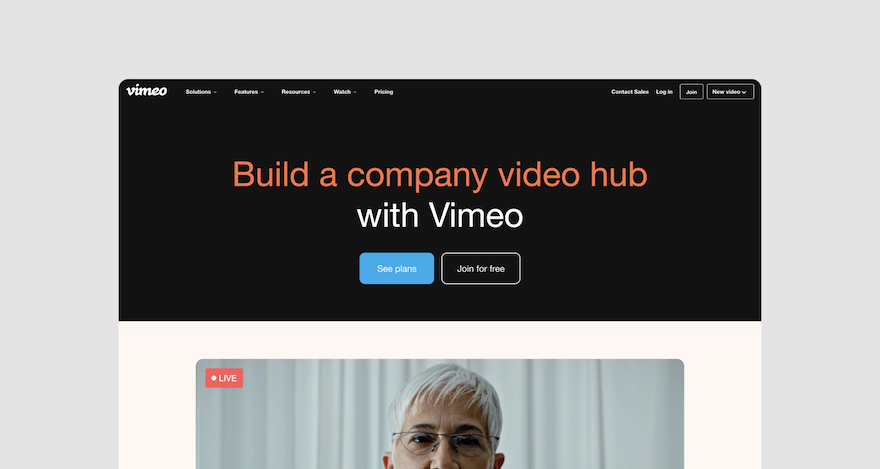 Which part of the video editing process can it help me with?
Vimeo features a video maker tool that allows you to make simple edits to your videos.
Features
Vimeo's features include:
High-quality stock footage library and custom video templates
Stickers, filters, watermarks, and text tools (with various fonts)
Cropping, trimming, and merging videos
Sharing videos directly on social media
Pricing
Vimeo's pricing ranges from $9 to $65 per seat per month.
Each plan comes with a yearly video limit per user. For example, the Starter plan allows you to make and manage up to 60 videos per user per year.
An Enterprise plan is available on demand.
5. Wipster
Wipster is a video-led collaboration platform that helps creative professionals optimize how they review and approve video projects.
Which part of the video editing process can it help me with?
Wipster can help you keep all stakeholders in the loop regarding the progress of your video projects. The platform enables you to request and collect contextual feedback from collaborators via shareable links.
Features
With Wipster, you can:
Share projects for review via URL
Track the status of your reviews
Compare versions side by side
Click to add frame-accurate comments and annotations
Plus, Wipster integrates with tools like Brightcove, Vimeo, Wistia, Slack, Adobe Creative Cloud, and more.
Pricing
Wipster features three premium plans and a free one. The paid plans range from $19.95 to $39.95 per user per month.
For details on the Enterprise plan's pricing, contact Wipster's sales team.
6. Type Studio
Type Studio is a collaborative video editor that helps content creators (such as podcasters) easily edit their video clips using a text-based system.
Which part of the video editing process can it help me with?
Type Studio can help you simplify your editing process through its text-based interface, which makes it easier and faster to edit compared to traditional timeline-based video editing.
Features
Type Studio allows users to simplify their post-production processes with tools for:
Rotating, trimming, cutting, and resizing videos
Auto-generating subtitles
Adding transition effects to videos
Repurposing long-form content into short clips for social media (e.g., TikTok videos)
Recording and editing podcasts
Pricing
Type Studio is priced monthly, starting from $12 for the Starter plan.
The Pro plan costs $20 per month, and the Team plan starts at $36 monthly.
A free plan with limited functionality is available.
7. VEED.IO
VEED.IO's online video editing software lets you create and edit video content straight from your browser.
Which part of the video editing process can it help me with?
Since VEED.IO is a video editing platform, it can help users create and edit content.
Features
VEED.IO's platform features tools like:
Video editor
Screen recorder
Live streaming
Subtitles and transcriptions
Pricing
VEED.IO's pricing ranges from $18 to $59 per editor per month.
There's also a free version available. With the free version, users cannot process large files (upload limit of 250 MB) and can only create 10-minute-long watermarked videos.
***
VEED.IO was the last collaborative video editing software package on our list.
Hopefully, now you have a good grasp of which tool does what and how it can help you collaborate better with your team members.
If improved creative collaboration is your priority, there's one last thing you need to know. 😌
Optimize your video editing with the right software
Depending on your business needs, collaborative video editing can take two forms:
Real-time collaboration during the review and approval process
Simultaneous video editing
MarkUp.io can help with the first one! 🖐️
Our platform can help you fast-forward through the review process and get to the final cut quicker and easier.
"Not another tool I have to learn how to use," you groan.

We get it. Time is money, so you have to be careful how you spend it.

With no onboarding needed, https://t.co/4sRHy0H2wP makes it simple!

So, what are you going to MarkUp first? 😏#Collaboration #Design #Feedback pic.twitter.com/pcMCKFO99k

— markup.io (@markup_io) November 16, 2022
Sign up for a free 30-day trial with MarkUp.io and make video feedback a breeze!
Frequently asked questions (FAQs)
Q1. What's collaborative video editing?
Collaborative video editing uses cloud-based software that enables multiple users to work on the same video project simultaneously. Examples of collaborative video editing software include VEED.IO, Vimeo, Type Studio, etc.
Q2. What are the benefits of collaborative video editing?
The benefits of collaborative video editing include:
Contextual feedback and faster reviews
Having all project files and comments on a centralized platform
Collaborating with team members in real-time
Improved visibility into project progress